An important consideration when it comes to outdoor survival is choosing a hunting knife. If used correctly and with care, hunting knives can be a highly valuable piece of equipment.
You will find that hunting knives provide you with many practical uses during your outdoor adventure, such as prepping food, cutting wood and rope, and performing various other tasks that may arise during your outing.
So how to choose a hunting knife for your next adventure? No matter what level of experience you have, this blog will be able to help you.
As you select a hunting knife, there are a few factors that you should consider before making your choice.
Fixed vs Folding Blade
You should first determine what type of hunting knife you need in order to make the right choice. Should you choose a fixed blade knife or a folding blade knife?
When it comes to heavy-duty tasks (e.g. skinning or cutting through thick materials), fixed blades are generally more durable and reliable, so they are preferred for wilderness survival knives and bushcraft tools that require heavy-duty strength and durability.
Considering the fact that folding blades are compact and lightweight, they show high potential for being an excellent choice when it comes to pocket knives for everyday use.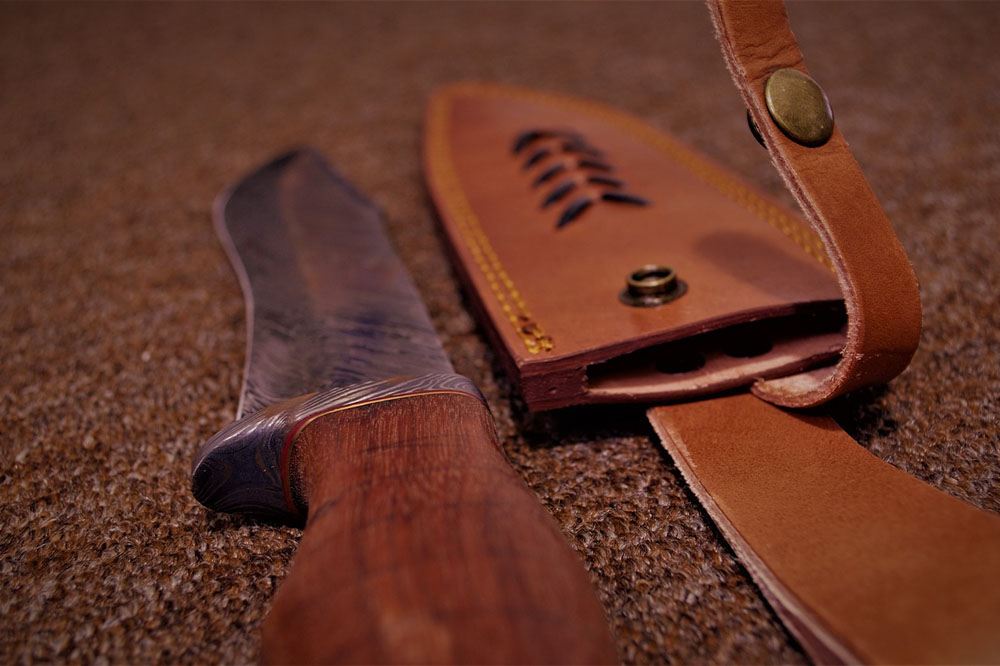 Blade Size
Furthermore, a blade's size and shape should also be taken into account when choosing a blade. It is not recommended to use blades that are too big or too small.
In the case of too large a blade, you will not be able to effectively use it for detailed work, such as field dressing small games.
In the same way, you may find it difficult to carry out rugged tasks outdoors with a blade that is too small, and you won't be able to use it effectively for chopping or batoning, which involves striking the back of a knife blade with a rock or piece of wood so that the blade can pass through thick branches or stubborn wood.
Most survival knives fall in the range of six to 12 inches, and the ideal size to be around 9-11 inches in length. Choosing the right blade size for a given job is crucial, as this will ensure that you get the best results.
Blade Shape
There are a number of blade shapes available for hunting knives, including drop points, clip points, and skinners. Each shape is designed to serve particular purposes, such as skinning games or cutting tough materials.
Drop point
The drop point blade is characterized by a curved spine that slopes downward toward the tip. The shape allows for greater control when cutting and increases strength at the tip. It is suitable for general-purpose use and is a popular choice for hunting knives.
Clip point
A clip point blade has a spine that curves downward from the handle and a sharp tip. With this shape, the blade acquires a fine point that is optimal for detailed work, making it well suited to skinning, cutting and piercing purposes. For pocket knives, it is a popular choice, and it is also perfect for hunting knives.
Skinner
Skinner shape refers to a type of hunting knife blade that has a curved cutting edge and a fine point. This shape is designed to perform fine tasks such as skinning, cutting, and piercing with fine detail.
Blade Thickness
A blade's thickness should be determined by the purpose for which it is being used. For heavier tasks, a thicker blade will be more efficient, while for lighter tasks, a thinner blade will be more efficient. The ideal blade thickness is 0.17 – 0.25 inches.
Blade Steel Material
The type of steel used for the blade of the knife plays a crucial role in the performance of the knife. In comparison to stainless steel, high-carbon steel has better resistance to corrosion and is more likely to withstand abuse.
If you are looking for the best hunting knife that will serve you for a long period of time and provide great performance, the Kalkal hunting knife is a good option.
Kalkal hunting knife is made of 5Cr steel and coated with rust prevention. All blades are made of 5Cr steel, which gives the blade a hardness of 60HCR, making it easy to cook different types of games. The use of a durable and sharp blade can increase the cutting speed and increase the efficiency of the hunting process.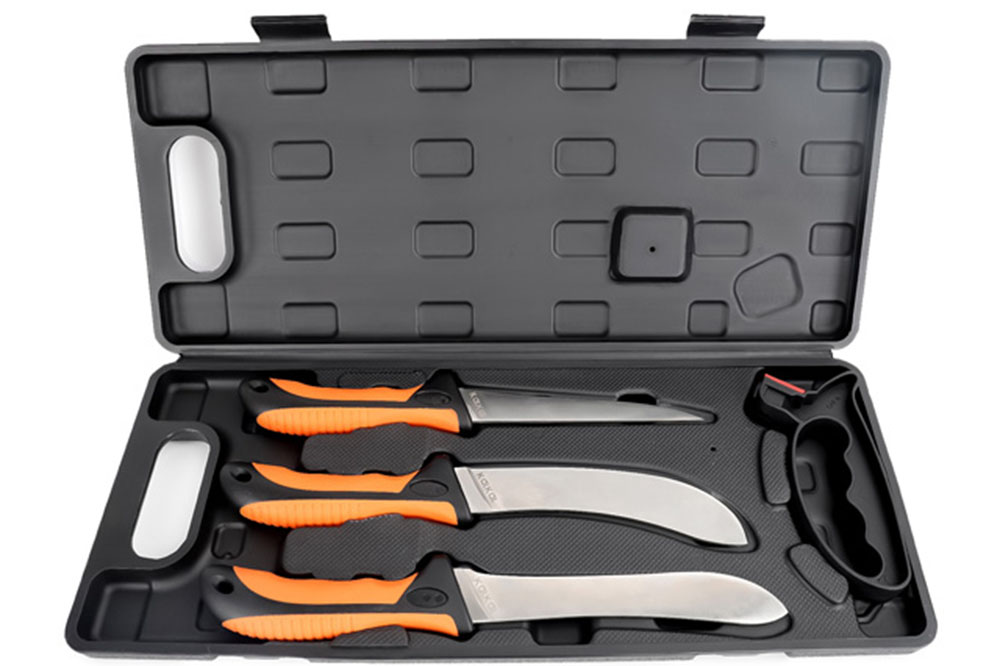 Full Tang
A full-tang knife has a blade that runs the full length of the handle, making it stronger and more durable. The blade of a partial tang knife is partially integrated into the handle, making it lighter, but less strong than a full tang knife.
Knife Handle
Whenever choosing the handle of an outdoor survival knife, the most important things to take into account are the strength, durability, and grip of the handle. Handles are just as important as blades, as they are meant to fit comfortably in your hand and provide you with a good grip in any situation.
Additionally, the material of the handle should be strong and durable so that it can stand up to regular use and wear as well. Furthermore, to ensure that the product will last for a long period of time, it must be corrosion-resistant.
In a nutshell, you need a handle that is comfortable to hold and that won't slip in your hand when you use it.
A reliable and capable hunting knife is an essential component of any hunting trip. Choosing a hunting knife for outdoor survival depends on the type of task you plan to perform with it. With so many options available on the market today, it is easy to find the perfect knife for your needs. Here we highly recommend the Kalkal Hunting Knife Set for its exceptional quality and performance. It will enhance your cooking experience with its precision and craftsmanship.
Related Topics:
How to Choose the Best Scope for Your Rifle and Purpose
How to Choose the Right Binoculars for Hunting
How to Choose the Right Hunting Boots