Are you fond of hunting, and want to see in all directions (360 degrees), without being seen by animals? 360 hunting blinds are there to make hunting easier and more fun for you.
The high-quality material, appropriate height, and protective features help make the 360 hunting blinds a preferable choice for hunters. Such a design also provides solid frame construction and additional floor space to the hunters.
By using the 360 hunting blinds, you can have easy access, protection, and a right angle for hunting an animal. In this article, here are some popular blinds that we have reviewed for you.
What Are Hunting Blinds and Are They Necessary?
Hunting blinds are specially designed tents that keep hunters hidden and give them protection at the same time. The hunting blinds are also designed to be waterproof which saves the hunters from the severity of the weather as well.
They are necessary for hunting as they keep the hunter focused, provide the space to stand or sit while hunting, and give the right angle to the prey. Moreover, the high-quality design and construction material also make sure that hunters remain safe and sound while being in the hunting blinds.
Key Features and Specific Needs of Hunting Blinds
Having a hunting blind equipped with specific features is essential for a successful and comfortable hunting experience. Let's explore what are the specific key features of the hunting blinds:
Material and Construction
Hunting blinds usually have heavy-duty roofs with seamless waterproof coating to protect the hunting stand from the elements, ensuring durability and longevity. The seamless waterproof coating prevents leaks, keeping hunters dry during rainy weather conditions.
Size and Space
A hunting blind is a hunting box that is quite spacious. It allows the hunter to maintain an upright posture while being in the box. The internal space of the hunting blind is big enough that two people can comfortably sit inside it.
Easy Setup
The hunting blinds should be easily assembled and arranged so that hunters can save effort to install it in the field.
Camouflage Pattern
Most hunting blinds have camouflage patterns as this pattern can easily be blended into the surroundings. Animals cannot identify them easily and can easily roam around. This also makes the targeting easier for the hunters.
Windows and Shooting Ports
360 hunting blinds should have a few tinted and raising mechanism windows, which is a one-handed operation.
The Shooting house has an angle on a box, which makes it easy for the hunter to aim at the animal. It offers a space at the corners, which makes it easy for hunters to also bring kids and relatives with them at hunting.
These windows provide hunters with a wide field of view, allowing them to scan the surroundings and spot games easily.
Ventilation and Scent Control
They have integrated ventilation which keeps the internal environment suitable for the hunters. The ventilation makes sure that hunters have sufficient oxygen and exchanges of gases, which also keep them refreshed and active. Most of the hunting blinds are completely insulated which keeps the scent control within the hunting blinds.
Weather Resistance
The material of the 360 hunting blinds is waterproof, which acts as weather resistant. This material helps in keeping the hunters protected in the case of rain or extreme weather conditions.
Lockable Door
Hunting blinds with lockable doors can add an extra layer of security to the hunting stand. It prevents unauthorized access and safeguards valuable hunting gears stored inside.
Gear Storage
These 360 hunting blinds are usually shipped in the kit form, and after unfolding they are very easy to arrange and assemble as well.
In summary, these types of hunting blinds provide camouflage and a safe space for the hunters. They provide the right and obvious view of the animals and hunters can do hunting with right angles.
The hunter can also move around easily by taking the shot from different angles and not letting the animal go away easily. Hunting blinds are the perfect shelter for hunters as they can also rest and enjoy food/meals while hunting with a weather-resistant material.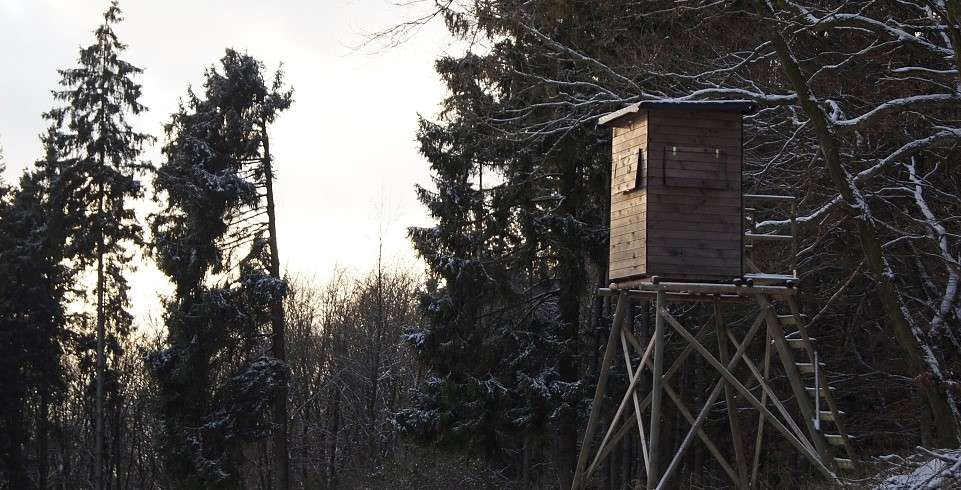 360 Hunting Blinds Reviews And Recommendations
360 hunting blind prices can be very expensive up to thousands of dollars. Before buying one, you need to understand what are their features and is it necessary to you.
Below,  we have summarized some of the commercially available 360 hunting blinds for you. After reading our comparison guide, we hope you can have a better understanding of it. And then you can decide whether you need to buy one.
360 Series by 360 Hunting Blinds
This 360-degree view blind is user-friendly as it is quite economical and has the same high-quality material.
Features:
6ft, 6inch-high interior allows hunters to stand up inside.
Wide enough for two people sitting inside.
It has 4 archery windows and 8 wide gun windows.
Its floor is carpeted.
Waterproof wood frame construction plus acrylic roof
Pros:
It is quite spacious and comfortable and provides a good view of animals to hunters.
Reviews:
This hunting blind has been highly praised by its users. They have been using it for years and reported it to be highly user-friendly. The weatherproof characteristics of the hunting blinds have satisfied the customers the most.
The presence of shooting houses provides the finest hunting corner to the users. They prefer to buy this variant of the 360 range as it gives them ease and proficiency at shooting.
360 Outfitter by Premier Buildings Nebraska
Features:
It has tinted rifle and archery windows.
24"x60" inward swinging door
LP Smart side exterior
Pros:
It is weather-friendly.
Reviews:
These hunting blinds are quite popular among users because of are spacious, comfortable, and user-friendly. They provide the view 360 to its users and make hunting more enjoyable. The users have shown positive reviews about these hunting blinds and have claimed to have been using them for years. The durability of the material of the hunting blinds has also been highly praised among its users.
360 Pro Series XL by Killer Food Plots
While this 360 hunting blind may be on the higher end of the price range, their quality undoubtedly justifies the cost.  The availability of good material has made it quite popular among customers.
Let's see what it has to offer for hunters.
Features:
3 gun/crossbow windows for different shooting angles.
Additional visibility from window on the door.
Four 4x4 pockets provide stability and support.
Each of the windows is equipped with padded shooting rails.
Floor and walls of the blind are carpeted.
Built with waterproof materials.
Pros:
It's waterproof and comfortable for hunters.
It is built to last.
Reviews:
Users have given a lot of positive reviews about the usage and durability of these hunting blinds. The presence of view windows not only provides them with a thorough view of the surroundings but also helps them make the right aim for the animal. They like the hunting blind because it has no blind spot and the window are quite. Overall, customers are satisfied with the usage and performance of this type.
After learning about the 360-degree hunting blinds with stands, we also have some great ground hunting blinds that are popular among hunters. They are lightweight and easy to carry. Below are some of them for reference:
SOFT SIDE 360° Ghillie Deluxe Blind by Redneck
These are also high-quality hunting blinds that have been designed by keeping the demands and requirements of the hunters in mind. Compared to the above hunting blinds with stands, these ground hunting blinds are cheaper.
Made of 100% fiberglass.
Enough room for 3 adults.
Double-stitched, and flame-retardant camo cover.
Double-zipper design.
Coated steel frame for the toughest of conditions and snow loads.
Pros:
Great quality with a affordable price.
Easy to set up.
Cons:
Sometimes it is hard to zip up the windows due to the the ghillie mesh.
Reviews:
The exterior of the hunting blind is made up of fiberglass with a UV-protected gel coat, which has lifetime durability. These redneck hunting blinds are available in a variety of designs and features, which make them quite popular among their users.
Their floor and walls are also carpeted, which offers a comfortable space for hunters as well. However, their windows are mostly adjustable at the top of the hunting blinds which could not be attractive for some users.
It has 4.9 out of 5 ratings from customers praising its quality and affordable price.
5x6 Octagon Hunting Blind by Shadow Hunter
These hunting blinds are designed in a way that they can be used for the long term. They are built with aluminum, which provides extra strength and support to the blinds.
Features:
360-degree view and shooting range.
Equipped with a weapon holder.
Air Flow system and insulated panels.
UV coating to protect from weather and sun exposure.
Pros:
It has spacious interiors.
It is long-lasting and durable.
It is lightweight, comfortable and easy to hunt with.
Reviews:
The multi-layer structure of these blinds is insulated which provides the maximum support to the hunting blinds and makes them much safer as compared to the conventional hunting blinds.
They have extra-large doors, which are more user-friendly. The silent window shields, which make sure that hunters get the perfect view, and sounds and manage the containment of the smell.
The blinds are available in a variety of shapes and sizes and are spacious enough to manage two hunters at one time. It possesses a good rating with all 5-star reviews from customers.
Tidewe Hunting Blinds
This see through hunting blind have characteristic three-sided sliding windows which are helpful for hunters in being unnoticed and unrecognized during the hunting process.
Features:
One-way see through mesh.
270-degree view.
Noise-free sliding windows on 3 sides.
Enough room for 2-3 people
Waterproof construction
Pros:
It is built with water-resistant and durable construction.
It has a silent window adjustment system.
It is lightweight and portable.
Three entire sides are see-through inside the blind.
Cons:
This blind does not have a floor.
It is not a fully 360 degree view.
Reviews:
They have three full panels of one-way see-through. They are made up of tough metal hubs and long-lasting straps. These features make them weatherproof and they provide protection and sustainability even during extreme weather conditions.
Their unique designs also help to take them down easily and they are also easy to carry. They provide the 270-degree view to the hunters which helps them in hunting as well. It also has a good rating with all 5-star reviews from customers.
Conclusion
360 hunting blinds are the best option for hunters as they are spacious, comfortable and provide a 360 view of the surroundings. It helps hunters assess the area and take a position.
The presence of integrated ventilators and windows also helps the users to take the right position and maintain the internal environment pleasant as well. The durability and life-lasting material of the 360 hunting blinds also make them a good choice over the other options.
Alternatives to the 360 hunting blinds are also available in the market and users can select the blinds which fulfill their demands. We hope our article can help you better understand hunting blinds and then make a wise choice.