Deck boots are a type of footwear that is very popular among people who like to participate in outdoor activities such as boating, fishing, camping, hiking, etc.
The reasons why people choose to wear deck boots are quite diverse, and in this blog post, you will learn about the reasons why people choose to wear fishing shoes, and we will also present you with Kalkal ankle deck boots, which are an excellent choice for outdoor activities.
Why Are Deck Boots So Popular?
Deck boots have gained popularity due to their versatile and functional design, making them suitable for various activities both on and off the water. Here is the breakdown of why deck boots are so popular.
Functionality
Among the primary reasons for wearing deck boots is that they provide a great deal of functionality to the wearer.
Fishing boots are designed to provide excellent grip and traction on wet and slippery surfaces, making them the perfect footwear for activities that involve water, such as boating, sailing, and fishing.
The soles of deck boots are usually made from materials that are specifically designed to provide excellent grip and stability, even in wet conditions.
Consequently, they are very popular amongst boaters as well as fishermen, who need to be able to move safely and securely on wet decks or along slipping shorelines while boating or fishing.
Durability
The durability of deck boots is yet another reason why people choose to wear them. Deck shoes are typically designed to be durable and sturdy.
These shoes are usually constructed from high-quality materials that can withstand the elements and the wear and tear that happens during outdoor activities.
In any environment, whether it be a rainy or muddy environment, fishing boots are a great option to keep your feet dry and protected from the elements.
The most common materials used in deck boots are leather and rubber, and both of them are durable and long-lasting materials.
Style
The popularity of deck boots can also be attributed to their style. The deck boot comes in various styles, such as ankle-length, midcalf, and knee-high, and there are a variety of sizes to choose from.
It's easy to find a pair that will match your personal taste and style. These boating shoes provide a classic, rugged look, and they can be worn with a variety of different outfits.
Kalkal Ankle Deck Boots Review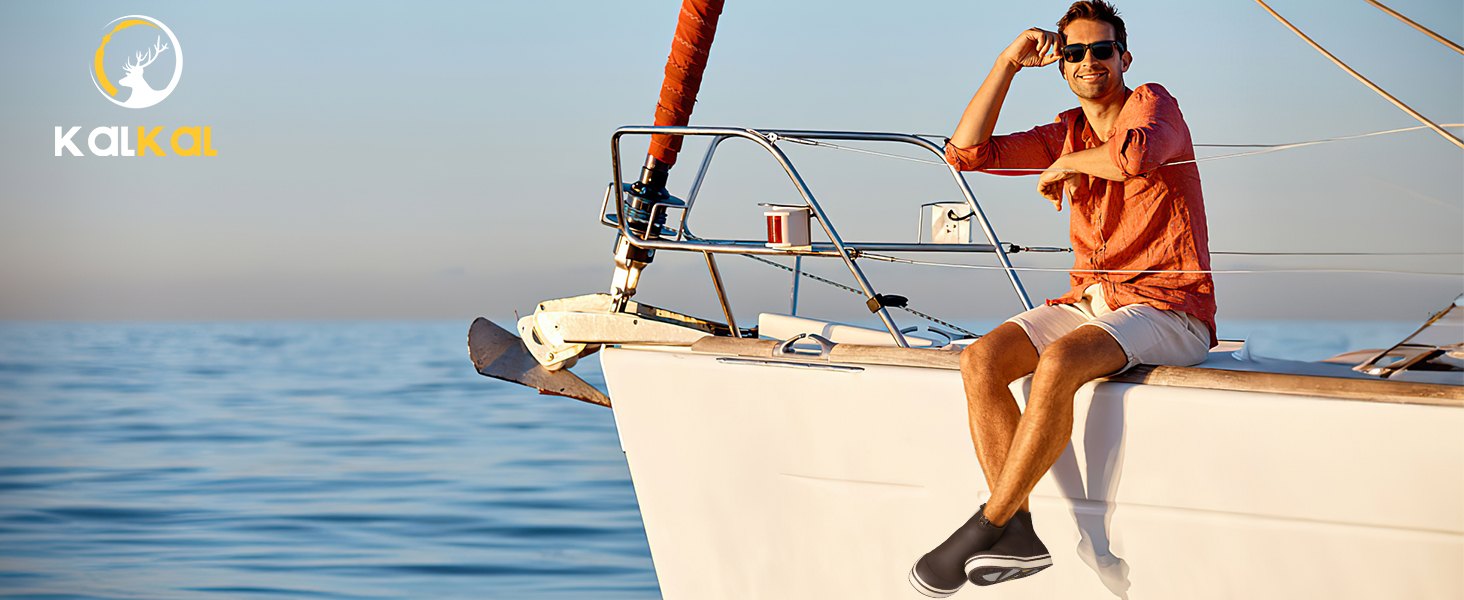 Kalkal ankle deck boots are built with a full neoprene rubber that is 100% waterproof, delivering durability throughout the day. The Kalkal rubber fishing shoes feature a sturdy non-marking sole that is designed to give you the traction and functionality you need in wet and slippery conditions.
These boots were designed to be lightweight and breathable, so they will not make your feet feel overheated or tired while you wear them.
With a neoprene upper and cushioned insole, you'll enjoy extra support and comfort in this boot, which will allow you to travel farther and faster with less effort while reducing fatigue during long workdays. All water activities can be performed safely and comfortably in Kalkal fishing deck boots.
In addition, Kalkal ankle deck shoes are a pair of totally unisex boots. Both men and women will find them suitable for most occasions.
As a whole, the Kalkal deck boots are a great choice for anyone who would like a stylish and functional pair of boots without compromising on quality.
Conclusion
No matter what activity you're involved in, whether you're sloshing around in the snow in winter or pressure washing in summer, waterproof deck boots are sure to meet your demands.
Whether you are a boater, fisherman, hiker, or you just enjoy spending time outdoors, a good pair of fishing deck boots can be an essential addition to any outdoor clothing collection.
A good pair of deck boots will serve you for years and will keep your feet both safe and comfortable on all your outdoor adventures in the future. If you are in the market for a new pair of deck footwear, think about investing in a pair of KalKal Deck Boots.