Many occupations need people to stand or walk all day. For all such individuals, wearing shoes with adequate cushioning is a must. It will help them remain pain-free and comfortable for a long duration of time.
However, many work shoes aren't designed in this way. It's exactly why you need the right pair of insoles. The best insoles for standing all day promote healthier posture and enhance mobility, facilitating a better working experience.
Find out how to choose the best one for yourself and refer to our top picks.
Why Are Insoles So Important for Foot Health?
Working in a standing position continuously can lead to swelling in the legs, muscular fatigue, and sore feet. If you are a nurse, teacher, or construction worker and your job requires prolonged standing, it can have potentially negative effects.
Apart from pain in the feet and fatigue, you can also face low back pain and stiff neck and shoulders. Adequate foot support through insoles helps dispense the body weight equally across your feet.
It, in turn, minimizes pressure on particular areas and keeps the foot and body properly aligned. Good cushioning is essential to absorb shock and alleviate pressure on your feet.
If your job demands walking extensively, cushioning minimizes injuries induced by impact like plantar fasciitis, tendonitis, and osteoarthritis.
Insoles or orthotic inserts are designed to ease foot pain and rectify structural issues. The best insoles redistribute your weight and remove pressure from sensitive parts of your feet.
They offer cushioning that alleviates stress on the lower body and corrects your gait. Some studies also show that custom-made insoles can reduce the progression of arthritis.
Thus, insoles make you feel more comfortable by imparting better support and protection, which causes less fatigue.
How to Choose the Correct Insoles for Your Shoes
No two pairs of shoes are identical. Whether your footwear is high, flat, closed or open, there's a comfy insole for it.
Consider the following points to pick the right insole for you.
1. The Arch Type of Your Foot
The arch of a person's foot usually falls into one of three types; medium arch, low arch, and high arch. Every insole is designed for one or more of these arch types.
When choosing insoles, you should first determine your foot arch type. Then browse only those insoles that are designed for your foot arch type.
The best shoe insoles should work with your foot arch type, providing arch support that relieves pain in your feet.
Insoles with arch support having deep and comforting heel cups align your foot into the correct position. It, in turn, reduces various foot problems, such as plantar fasciitis, flat feet, and overpronation.
2. Cushioning
Cushioned insoles minimize the impact forces associated with running. Thus, they protect against overuse injuries. Cushioning also distributes your weight evenly and minimizes pressure on certain areas of your feet.
Insoles made of foam and gel provide the best cushioning. Such insoles are highly resilient against shock and relieve various types of joint pain throughout your body.
3. Moisture-wicking
Do you know that a pair of working feet can sweat around half a pint per day? This fact indicates the significance of a moisture-wicking insole.
They absorb moisture to minimize the foot's temperature whilst keeping it dry. It is why the best shoe insoles come with moisture-wicking capabilities so that sweat does not cause bacteria to breed and lead to further complications.
Insoles produced with a compressed foam are categorized into open-cell and closed-cell insoles. A closed cell prevents moisture from passing through and goes flat after some time of usage.
It is why we recommend an open-cell material for proper moisture-wicking properties.
4. Breathability
The insole inserts have breathable fabric that wicks moisture and keeps the feet comfortable and dry. Such insoles facilitate air circulation and keep your feet cool as you walk throughout the day.
A perforated forefoot in the insoles enhances breathability. It also makes the insoles more lightweight.
Should You Invest in Shoe Insoles?
There are several reasons for investing in insoles. These questions will help you determine whether you should buy pair.
Do you feel foot pain after walking or standing for an extended time?
Do your feet swell after walking or standing for a long time?
Do you have a foot condition like Hallux Limitus, Hallux Rigidus or Morton's Toe?
Do your knees, hips, lower back, or legs ache after walking or standing for a long time?
Does your footwear wear unevenly?
Do you have an injury in your lower limb?
If you've experienced the challenges mentioned earlier, it is time to consider investing in comfortable insoles for your everyday wear. Doing so can proactively mitigate potential foot health problems.
Insoles come in various types, including cushioned, arch-supporting, orthotic, and custom-made options.
They are designed with different functions in mind. For example, athletes will need a different pair than those with a foot condition.
When contemplating the purchase of insoles, it's crucial to have a clear understanding of the specific types required, as various individuals may have distinct needs for insoles.
Runners need insoles with a good foot support system and heel and forefoot padding. Contrarily, cyclists need insoles that offer forefoot and arch support.
Those with conditions like plantar fasciitis, supination, or over-pronation require supportive insoles. On the other end, people engaging in sports like snowboarding or skiing need thermal insoles that retain heat.
Remember, investing in quality shoe footbeds is not just about enhancing comfort; it's about promoting better foot health and overall well-being. By addressing potential issues at their source, you can enjoy a more active, pain-free lifestyle.
To make an informed decision, it's advisable to consult a podiatrist or footwear specialist. They can assess your specific needs and recommend the most suitable type of insoles for your situation.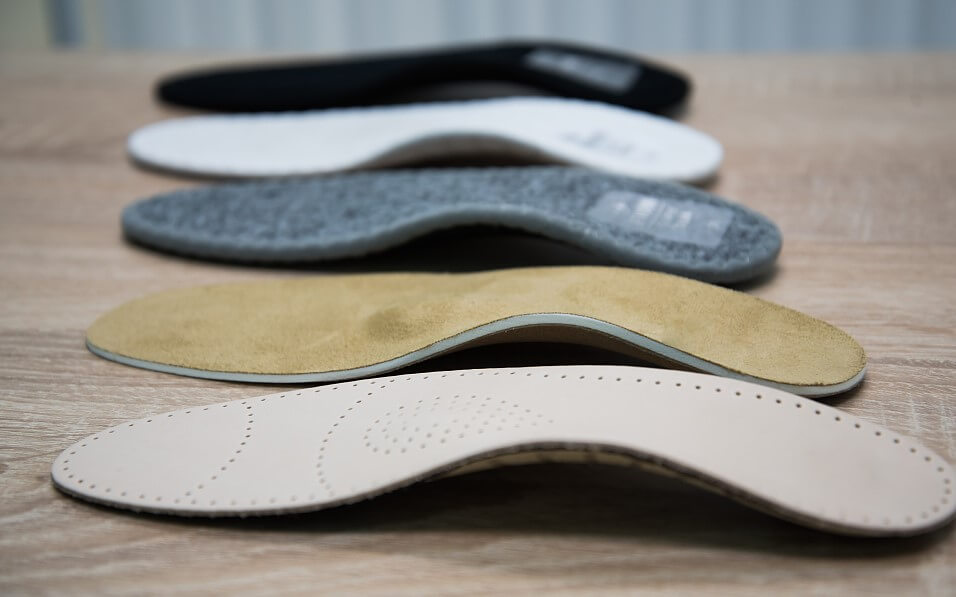 10 Best Insoles for Standing All Day
After doing research, we have compiled this list of the top insoles considering all the essential factors for choosing the best insoles listed above.
They will soothe your achy feet and ensure you walk or stand comfortably for extended periods.
Features:
The green insoles have a deep and wide heel cup.
The stabilizer cap supports the rear foot.
Professional-grade insoles that retain their shape.
Can replace the removable sock liner in moderate to roomy-fitting footwear.
Pros
Minimizes stress on feet, knees, ankles, and back.
Suitable for individuals with high arches.
The insoles have a natural odour-control coating.
Closed-cell foam provides a secure foundation for long-lasting comfort.
Cons
The insoles don't prevent pronation completely.
Star Rating: 4.3/5
Features:
Made of quality cushioning material
The insoles have a longitudinal arch and metatarsal pad
Two-zone-cushioning system reduces impact in the heel
Are hand-washable and dry quickly
Pros
Reduces joint pain, splayfoot, back, and bent foot complaints.
Cushions and supports sensitive parts of your foot
Highly durable and shock absorbing
Best insoles for standing all day for work, running and trekking
Cons
Insoles are narrow and not good for width feet.
Star Rating: 4.4/5
Features:
Made of lightweight and breathable material.
The shell of the insoles is adapted to medium arches.
Equipped with a gel pad.
Pros
Ideal for long walks or hikes on uneven surfaces.
The gel pad enhances heel cushioning.
The pad in the insoles boosts sore foot propulsion.
Cons
It may not be suitable for people with high or low arch.
Star Rating: 4.0/5
Features:
Equipped with GelActive technology for shock absorption.
Anti-odour technology prevents unpleasant odours.
They are easy to insert as they have a non-slip design.
The firm dual gel imparts adequate support to the bridge of the foot.
Pros
Reduces excessive pressure of continuous walking.
The GelActiv technology imparts superior cushioning performance.
Ideal for work shoes and boots.
Prevents tired and achy feet at the day's end.
Cons
Thinner than others.
Need time to break in for the first try.
Star Rating: 4.0/5
Features:
Anatomically designed with a deep cushioning heel cup.
The insoles have a medium arch
Feature dual-density EVA construction
Pros
Best insoles for standing all dayas they provide ample cushioning.
The thermal version keeps the feet warm.
Anatomical design provides maximum stability.
Cons
The insoles aren't very long-lasting.
Star Rating: 4.4/5
Features:
Relieves and prevents knee, ankle, back, hip, and foot pain.
The orthotic insole helps reduce friction, heat, and perspiration.
The dual-wear support cushioning provides a high level of comfort.
Pros
Full-length insole for complete foot support.
Has an odor control top fabric.
Designed by a podiatrist.
Exact fit insoles that need no trimming
Cons
It might be expensive for some.
Star Rating: 4.5/5
Features:
High arch support shoe inserts come with orxinlite foam for more cushioning.
Insoles have a deep heel insert that aligns the body and distributes load evenly.
Anatomically designed for both genders.
Pros
The best insoles for standing all day as they reliably prevent pain.
Ideal for men's work shoes.
Gives greater stability to the body throughout the day.
Imparts extra energy for activities like standing, walking, and hiking.
Cons
The insoles squeak and creak against the interiors of the boots, which can be annoying.
Star Rating: 4.3/5
Features:
Draws in perspiration for the feet to stay dry.
Heavy-duty built
Effective in stopping odour throughout the day.
Pros
Advanced triple-layer design.
Equipped with two powerful odor-blocking technologies.
Solid construction imparts more cushioning.

Cons
Available in only small sizes.
Star Rating: 4.2/5
Features:
Made with TechnoGel, a polyurethane bathe gel with outstanding shock absorption.
Protects from knee, back, and foot pain related to supination or pronation of the foot.
Provides support to the inner or outer edge of the foot.
Comes with self-adhesive to be fixed in the shoe.
Pros
Good for standing all day because of the breathable gel providing outstanding comfort.
Neutralizes biomechanical changes in the limbs, back, and foot associated with a supinated or pronated foot stance.
Highly durable
Cons
The insoles are not quick-drying.
Star Rating: 4.0/5
Features:
The gel pads have great shock-absorbing capabilities.
The insoles have a comfortable top layer.
Helps control excess pronation.
Designed in Metarsal raise
Pros
Has a 30-day exchange policy.
The micro-fibre top layer provides adequate comfort
It can be trimmed for an ideal fit.

Cons
It may not help much with foot pain.
Star Rating: 4.8/5
Tips to Make Prolonged Standing Comfortable
Being on your feet for an extended time can be tough. But you can make it easier with these effective tips.
Wear good shoes. Look for footwear with a sole wider than its heel to prevent you from tipping on one side. They should have good cushioning and the correct size.
Maintain proper posture. Do not let your lower back arch and your shoulders slump. It puts undue pressure on the muscles and joints.
Use ergonomic aids. Use insoles or any other similar items to make you feel comfortable and well-supported.
Shift your weight from side to side. It equalizes weight bearing and activates the core.
Don't lock your knees while standing. Soften them to avoid experiencing knee and lower back pain.
Concluding Words
The best insoles for standing all day help tremendously in alleviating foot pain and making activities like walking and running much more enjoyable.
You can choose the right pair considering the factors mentioned above or simply explore the options listed here and be confident of investing in a comfortable pair.