During cold weather, your feet are one of the most vulnerable areas of your body, and they are one of the most susceptible to injury. There are a number of painful and uncomfortable conditions that can be caused by sweaty feet, including blisters, so it is essential to keep your feet warm and dry in work boots while you are doing any outdoor activities.
As mentioned in the title, this guide will show you how to keep your feet from sweating and getting cold in work boots, and to make sure that your feet stay dry and comfortable, regardless of the type of work you are performing.
Why Do Your Feet Get Sweaty?
In most cases, wet feet are caused by the fact that you are wearing inappropriate footwear. The wrong type of shoes can obstruct your feet ' natural breathing, trapping them in moisture and making them sweaty.
So, it is important to wear the right type of footwear so that your feet can breathe properly, preventing moisture from collecting.
How Will Sweaty and Cold Feet Affect You?
When feet are wet, their ability to regulate temperature is impaired. The temperature of wet feet can drop quickly, resulting in discomfort and, in some cases, frostbite. In addition, foot slippage and blisters are more likely to occur when they become wet.
The feeling of cold feet is one that can have a negative impact on your physical performance, your endurance, and your ability to concentrate.
Moreover, cold feet can increase the risk of hypothermia, and in extreme weather conditions, hypothermia can pose a serious danger, if not potentially life-threatening, to them as well.
Keeping your feet dry and warm in work boots can be achieved in a few ways.
How to Keep Your Feet From Sweating and Cold in Work Boots?
Choose the Right Pair of Socks
One of the most effective ways to protect your feet from the cold in your work is to choose a pair of boot socks that are made specifically for that purpose.
Wool Socks
Wool is a natural fiber that traps air and moisture, keeping you warm and dry at the same time. There is also the fact that it has a high thermal mass, as well as the ability to retain heat for a long time. Also, socks made from wool are much more breathable than those made from other materials.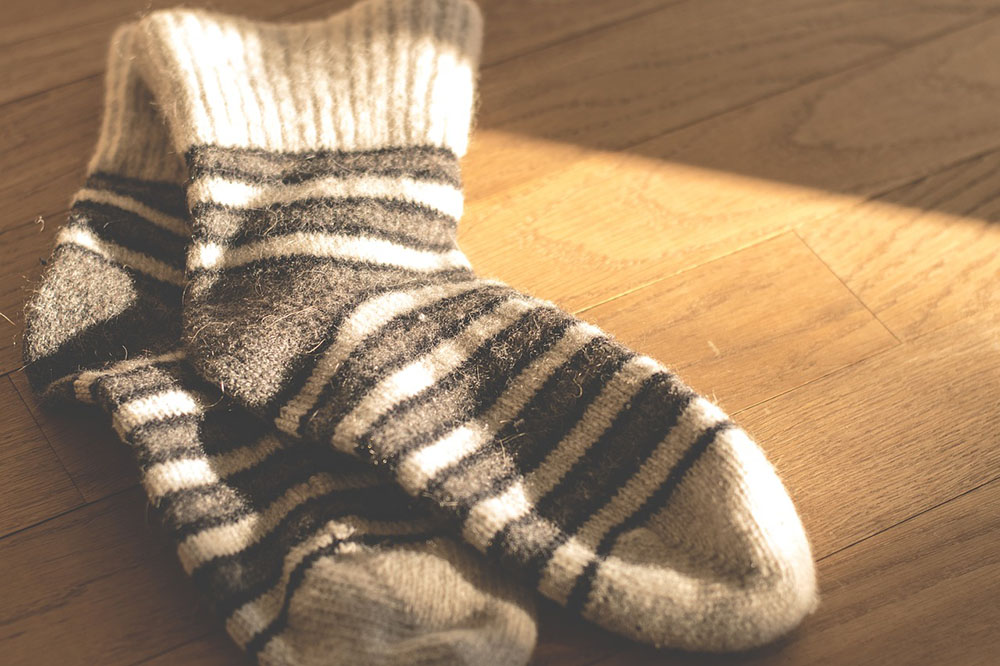 Heated Socks
For workers who suffer from cold feet, heated socks are a good option. This is not just because they keep your feet warm, but they are also effective in preventing other foot problems, such as numb, frozen toes and other discomforts related to them.
Sock Liners
Sock liners are made of polyester fibers or lightweight wool. They are usually worn between your regular socks and your boots, and serve as your first layer of protection.
Those sock liners keep your feet dry by wicking away moisture. Hikers and backpackers will find these liners to be a great addition to their equipment. Also, you will find that these can be helpful if you tend to experience cold feet often.
Avoid Cotton Material
The material of socks you choose for work should be kept away from cotton at all costs. As cotton absorbs moisture from your feet, it makes your feet feel all sweaty and uncomfortable.
And you will get a loss of body heat when your cotton socks get wet because of the evaporation that occurs when they get wet.
Additionally, it is advisable to choose a suitable pair of work boots to go with your footwear. KalKal Work Boots are a good option for you.
Foot Powder
Using foot powder on your feet will ensure that they stay dry and comfortable while working, and it will also prevent the odor of your feet from being present during the work process.
Toe Warmer
Toe warmers are a great solution for workers who need to keep their feet warm and dry while out in the cold, and these toe warmers are little pouches that are self-adhesive, filled with air-activated chemicals that provide up to eight hours of warmth once they are attached. As a result of this, when working in cold weather conditions, it becomes easier to stay warm and comfortable.
Cotton Balls
Soft and fluffy cotton balls are placed between toes, and they can be used as extra insulation for your feet and also to help reduce the amount of sweat you are likely to produce. Please note that if these cotton balls become moist, they need to be replaced immediately.
Move Your Toes
A good way to keep warm is to keep your toes moving. And it helps to reduce inflammation and enhance blood circulation. As your feet move regularly, your body will remain warm throughout the body as an increased energy expenditure contributes to maintaining heat.
Heated Insoles
Heated insoles are designed to provide the feet with additional warmth, keeping them comfortable even when the weather outside is very cold, and they are portable, so you are able to bring them everywhere with you.
You can enjoy a comfortable and warm experience while exploring outdoors with the insoles that are specially designed to heat up the arches of your feet.
Conclusion
You should always keep your feet dry and warm while working because it allows your body to maintain a healthy temperature for the whole day. By doing this will enable you to stay focused on the task at hand for the whole day.
It is highly recommended that you follow the above tips to keep your feet from sweating and getting cold in work boots, regardless of the weather conditions.