A fishing trip is not complete without the right gear. A pair of reliable fishing deck boots is one of the most important items that every angler should be investing in for their fishing adventures. The best wading boots will make your fishing experience safe and enjoyable.
There will undoubtedly be a question on your mind as to what are the best fishing boots available in the market. It is not a problem at all, here we present to you a good option-Kalkal Fishing Deck Boots.
In this blog, we will review the Kalkal fishing boots for waders. Designed with the needs of anglers in mind, these boots offer superior comfort, durability, and functionality. Read on this Kalkal boots review to discover why the the Fishing Boots are a must-have for any fishing enthusiast.
Optimal Comfort
Comfort is essential when spending long hours wading in the water. Kalkal fishing boots excel in providing unmatched comfort to anglers. The boots feature a cushioned insole that absorbs shock and provides excellent arch support, reducing fatigue during extended fishing trips.
The boots also feature a flexible neoprene upper, ensuring a snug fit while allowing for easy movement. Having these boots on will allow you to leave all the discomfort behind, allowing you to concentrate on what really matters: catching fish.
Exceptional Durability
Often, fishing equipment is the most damaged after a long period of time, especially when dealing with rocky riverbeds and slippery surfaces.
The Kalkal deck boots have been designed to take on even the toughest conditions. Constructed with high-quality materials, such as reinforced rubber and premium neoprene, these boots offer unparalleled protection against abrasions, punctures, and tears.
Whether you are traversing rough terrain or treading through muddy waters, you can rest assured that the Kalkal anti slip boots will keep you protected and stable, so you do not have to worry about your gear getting damaged.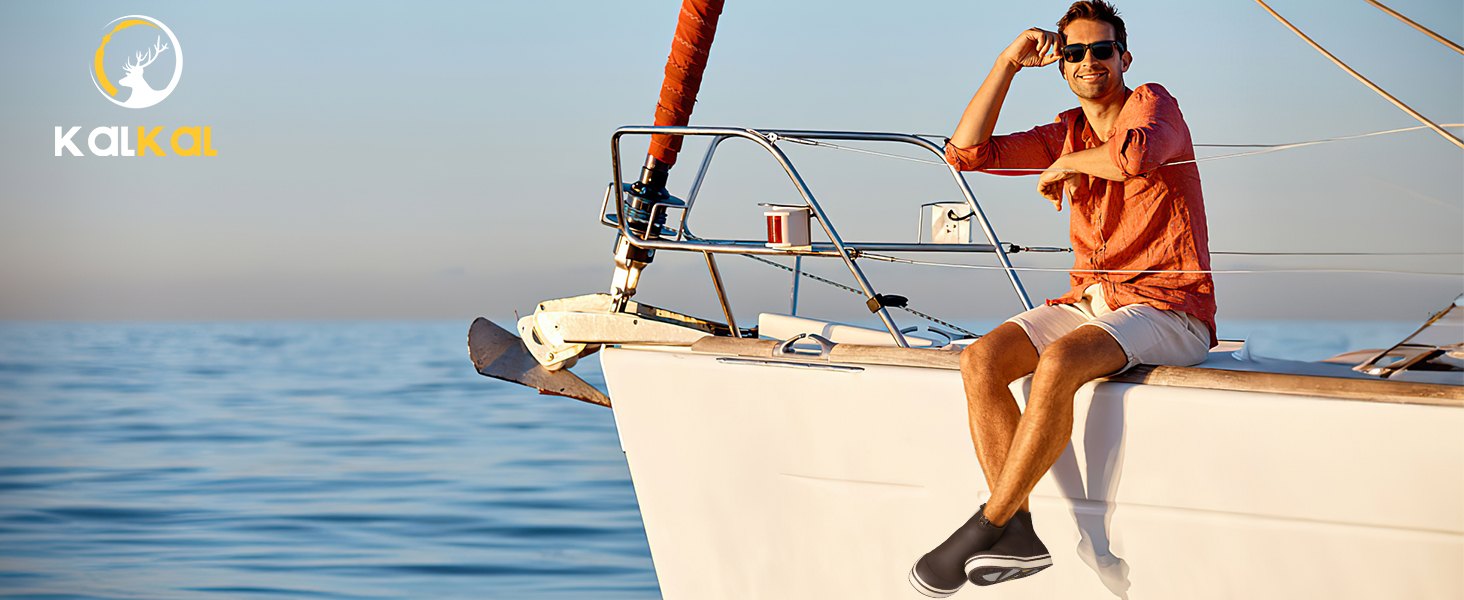 Superior Waterproofing
One of the most critical properties that can be found in a pair of fishing boots for waders is their ability to keep your feet dry when fishing. Kalkal Fishing Boots boast an exceptional waterproofing system that ensures your feet stay dry throughout your fishing expedition.
The boots are designed with a combination of welded seams, waterproof neoprene, and advanced sealing technologies, making them 100% waterproof on the water. With these neoprene boots, you can confidently wade through deep waters while maintaining dry and comfortable.
Enhanced Stability and Traction
Fishing in slippery conditions can be very dangerous, but with Kalkal fishing boots, anglers can conquer any terrain with confidence.
Featuring a rugged rubber outsole, these boots provide superior grip for enhanced traction on various surfaces, such as mossy rocks, muddy riverbanks, and slippery boat decks. Equipped with a reinforced toe cap and heel, these boots provide added protection against accidental impacts.
Versatility
Angling boots should be both comfortable and durable, as well as practical, so that anglers will be able to fish effectively. With the Kalkal fishing deck boots, you get comfort, durability, and practicality on all fronts, creating a truly exceptional fishing boot.
Whether you're fly fishing, angling in freshwater, or braving the waves in saltwater, these boots are made to withstand the elements. Furthermore, Kalkal boating boots are available in a range of sizes and styles to cater to every angler's specific needs.
For waders, it cannot be overstated how important it is to invest in a pair of fishing boots that are reliable and will last a lifetime. In this Kalkal boots review, you can find that Kalkal fishing boots for waders deliver all the features mentioned above on all fronts, from design to performance.
With their superior construction and versatile design, these boots are the perfect companion for your next fishing adventure. If you are passionate about fishing, don't compromise on your fishing gear – choose the Kalkal fishing deck boots and experience the difference they can make in your angling pursuits.
Interested in other types of boots? You can find more information about them by visiting the Kalkal store.