People gradually understand the worth of looking after their footwear, specifically boots. It's not just about good quality leather anymore, but also keeping it well using specialized shoe care products such as mink oil for boots.
Obviously, Mink oil is an amazing product. However, many people unfamiliar with mink oil often look forward to what it is and why they should use it.
In this article, we will discuss what mink oil is, its uses, the top mink oil products for boots, and the accurate answers to your questions about mink oil. Read below.
What Is Mink Oil?
Mink oil is extracted from the mink and then purified and refined. It is mostly used in cosmetic products and the medical field, but it can also be used to treat dry leather, moisturize the boot's leather, and promote the shine of your boots.
It is made with the fat of mink, so many fur and leather industries use mink oil for its excellent moisturizing properties and absorb quickly into the shoe and boot skin.
Mink oil is popular for people who condition their leather or suede boots. It is not only used for men's and women's boots, but also for children's shoes.
Mink oil is a famous product, but few people know how it works. It helps stop your boots from developing cracks and wear, providing footwear protection for years.
Furthermore, mink oil prevents leather from drying out and breaking. That applies to both new and vintage footwear. It is a handy product with which you can get the best out of your old boots.
Why Is Mink Oil Popular Than Other Oil?
There are many reasons why mink oil paste is such a great product.
The first reason why mink oil is so popular among people who wear high-quality leather boots is because it makes their boots last longer than normal products.
It means you won't have to replace your shoes as frequently as you would with other leather products.
Another reason mink oil is so popular is because it makes their boots smell better after use than in a normal routine. If you want your boots to smell nice, use mink oil instead of any other product type.
Mink oil cream is best for those who wear high-quality leather boots because it makes them more comfortable with its shine than normal products.
Many people have found that they can wear their favorite boots after some years without getting another pair of new ones.
Are Mink Oils Good For Boots?
Mink oil contains no harmful chemicals and is recommended for use on sensitive leather. This oil is best for boots. Mink oil is also a good moisturizer for your feet because many dermatologists consider it best for human skin.
According to them, Mink oil absorbs into the skin quickly, leaving my feet feeling soft and smooth.
Mink oil isn't only good for boots, but also the best product to shine your handbags, jackets, and shoe leather.
What Are The Advantages Of Using Mink Oil For Boots?
Mink oil is a traditional remedy for dry, cracked, or damaged leather. It's also an effective preservative and conditioner, which means it can double as both a lubricant and a moisturizer.
As mentioned above, it is made with the melting fat of mink, an animal that lives in the northern regions of Europe, Eurasia, and North America.
Mink oil is a secret ingredient in many shoe care products to soften the leather and make it look shinier. It also prevents premature stretching of your new boots and makes them last longer.
Mink oil has been used to cure a variety of skin ailments since ancient times. It also has antibacterial properties that make it great for treating wounds or infections caused by bacteria or fungi, and treatment of hair conditioning.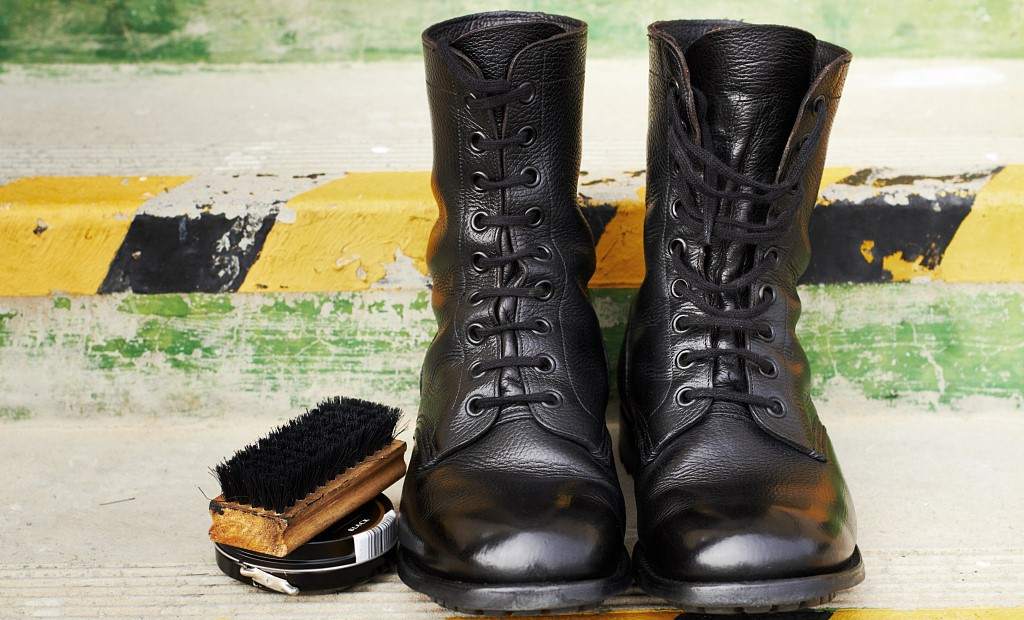 How to Apply Mink Oil To Your Boots?
Mink oil is a great shoe polish to make your boots look new.
You can apply mink oil on your boots as often as you want, but keep in mind that it takes nearly 10 minutes for the oil to absorb into the leather. You should apply the oil after every two weeks to maintain the shine of your boots.
If you want to apply mink oil to your boots more frequently, use a brush instead of other items. For this method to work well, wipe off any excess mink oil from the brush before using it on your boots.
You can also apply mink oil on your boots with the help of your hands by wearing gloves instead of any brush.
Below, we will discuss the step-by-step guide on using mink oil on your boots:
Wash your hands thoroughly with soap and water before applying the mink oil to your boots.
Wear gloves, and use an applicator brush or sponge if you have one available for this step.
Apply a small amount of mink oil directly onto the sponge and then the leather surface of your boots. Spread it out evenly with a sponge or brush with one hand while holding them in place with the other hand.
If you need to smooth out any uneven areas, do so gently with the applicator brush or sponge until the surface is even.
Try to dry your boots completely before wearing them after using mink oil. Absorption takes almost 10 to 15 minutes.
Top 5 Recommended Mink Oil For Boots
With a lot of research, we made a shortlist of the top 5 best mink oils:
Red Wing Heritage Mink Oil
The Red Wing Heritage Mink Oil is made from the fur of a mink and has been used for generations by professional leather workers. It is a blend of lanolin and silicone oils and can provide soft, supple leather that does not dry out or crack. This unique product will not only make your boots feel brand new, but also increase water resistance in the leather. It has a great score of 4.7 out of 5.
Fiebing's Golden Mink Oil Paste
Fiebing's Golden Mink Oil Paste is a water-resistant mink oil used as a waterproofing agent for leather and vinyl. It is applied to leather boots, shoes, and other accessories with a brush or sponge or by pouring it directly onto the leather. It has gained a good customer's score of 4.7.
Ariat Mink Oil Paste
Ariat mink oil care products are tailored for traditional leather boots and may not be suitable for exotic leathers. You may use this product on any leather item, including shoes, jackets, bags, and hats.
It's an excellent product for preserving the supple softness of your leather boots, ensuring they remain comfortable to the touch and resistant to the harsh effects of drying and cracking.
Angelus Leather Mink Oil Paste 
Angelus Mink Oil is a natural, non-toxic, and environmentally mink oil product that is applied to shoe leather and protects it against water damage. It also improves the leather's flexibility, shine, brightness, and softness.
The Angelus Mink Oil Paste Leather Waterproof is an excellent way to keep your leather clean, dry, and supple. It gained 5-star reviews from all customers who have made the purchases.
Justin Leather Mink Oil Cream
Justin Mink oil is a popular mink oil for leather boots. The manufacturer made it perfectly fine for using leather boots to make them shine after the dryness of years and the old and new cracks of boot skin. It is also helpful to protect leather work boots from dirt and grime and make them look like a new pair.
FAQ About Mink Oil for Boots
Should I use mink oil on new boots?
Yes! You can happily use mink oil on your new shoes. It can enhance the brightness of boots.
Is there any precaution for using mink oil for boots?
Please note that Mink Oil may cause some darkening of the leather to some extent. We recommend conducting a small test area before applying it to the entirety of your boots.
Is mink oil good for boots?
Mink oil is best for boots, especially those pairs of boots that are made of leather.
Does mink oil help leather boots or deteriorate leather?
Mink oil is easily helpful for leather boots and deteriorating leather as well.
How long should boots sit after mink oil?
You can sit on the mink—oil on your boots for 10 minutes to absorb.
How often should you oil your boots?
To keep your boots smooth and safe, oil them once a month.
Is mink oil good for leather boots?
Yes! Mink oil is the perfect product for shining in your dry leather boots.
What are the alternative oils to mink oil?
Beeswax, Neatsfoot Oil, Jojoba Oil, Coconut Oil, Leather Conditioner Creams and Vaseline or Petroleum Jelly are some of the alternatives to mink oil.
Conclusion
Mink oil for boots can vary in price and quality like any other product. We give the best advice to our readers to be selective with the specific mink oil for the boot brand that they choose.
The information provided in this article can help you decide which of these top-notch mink oil boot products will be the very best to bring into your life to save your money and make your boots bright and shine after passing years.
We enlisted the best mink oil products for boots for the ease of our readers. The more you shop around, the more likely you'll find a fantastic deal on mink oils.