Agriculture is more than a job; it's a way of life. You know that having the correct equipment may make all the difference when it comes to finishing the daily chores of a farm.
Boots are one of the most important equipment for any farmer or rancher. From navigating muddy fields to spending long hours on your feet, dependable and durable farm boots are a must.
In this post, we'll take a closer look at the features of Kalkal farm boots and why they've become a trusted option among customers.
Key Features of Kalkal Farm Boots
Kalkal farm boots are more than just a tool; they're an essential companion for you to work tirelessly on your farming job. So, let's dive into what makes KalKal farm boots stand out in the world of agricultural footwear.
Kalkal has different kinds of farm boots available. Most of them have the same important features in common. Here we take the ''Mid Calf waterproof Farm Rain Boots'' as an example.
Let's dive into the key features that set these boots apart:
Waterproof
Farming often means walking through wet and muddy conditions, which is why waterproofing is a non-negotiable feature. KalKal farm boots are constructed with waterproof materials, ensuring your feet stay dry and comfortable even in the most challenging environments.
Whether you're crossing a stream, working in the rain, or dealing with morning dew, these boots will keep moisture away and allow you to focus on the task at hand.
Rubber and Neoprene Materials
KalKal's choice of materials is deliberate and practical. They use strong materials of neoprene and rubber, which are known for their resistance to wear and tear, making KalKal farm boots a long-lasting investment that can withstand the demands of the farm.
Slip-Resistant Outsole
Farming surfaces can be unpredictable, with slick mud, uneven terrain, and potentially hazardous areas. KalKal rubber farm boots feature a slip-resistant outsole designed to provide exceptional traction. This feature ensures stability and reduces the risk of slips and falls, a crucial aspect of safety during farm work.
Breathable Insole
Farm work can be physically demanding, and your feet can work up quite a sweat. These farming boots incorporate breathable insoles to keep your feet comfortable throughout the day.
These insoles help regulate temperature and moisture, reducing discomfort and allowing you to stay focused on your tasks.
Pull Strap for Easy On and Off
The convenience of putting on and taking off your farm boots cannot be overstated, especially when time is of the essence. KalKal farm boots are equipped with pull straps that make them easy to slip on and off. This design feature is a time-saver.
Extremely Grippy
Farming often involves working on challenging terrains, from rocky fields to slippery barn floors. The extremely grippy outsole of KalKal farm boots provides a surefooted feel, enhancing your stability and confidence while working.
Shock Absorption
The boots are equipped with shock-absorbing properties to reduce the impact on your feet while walking or working on uneven terrain. This feature helps to minimize fatigue and provides added comfort during long hours of wear.
In summary, KalKal farm boots offer various essential features tailored to the demands of farm life. All these features make them a trusted choice for farmers who rely on their boots daily.
In the following sections, we will dive deeper into the real-world feedback of these boots to help you make an informed decision for your farm footwear needs.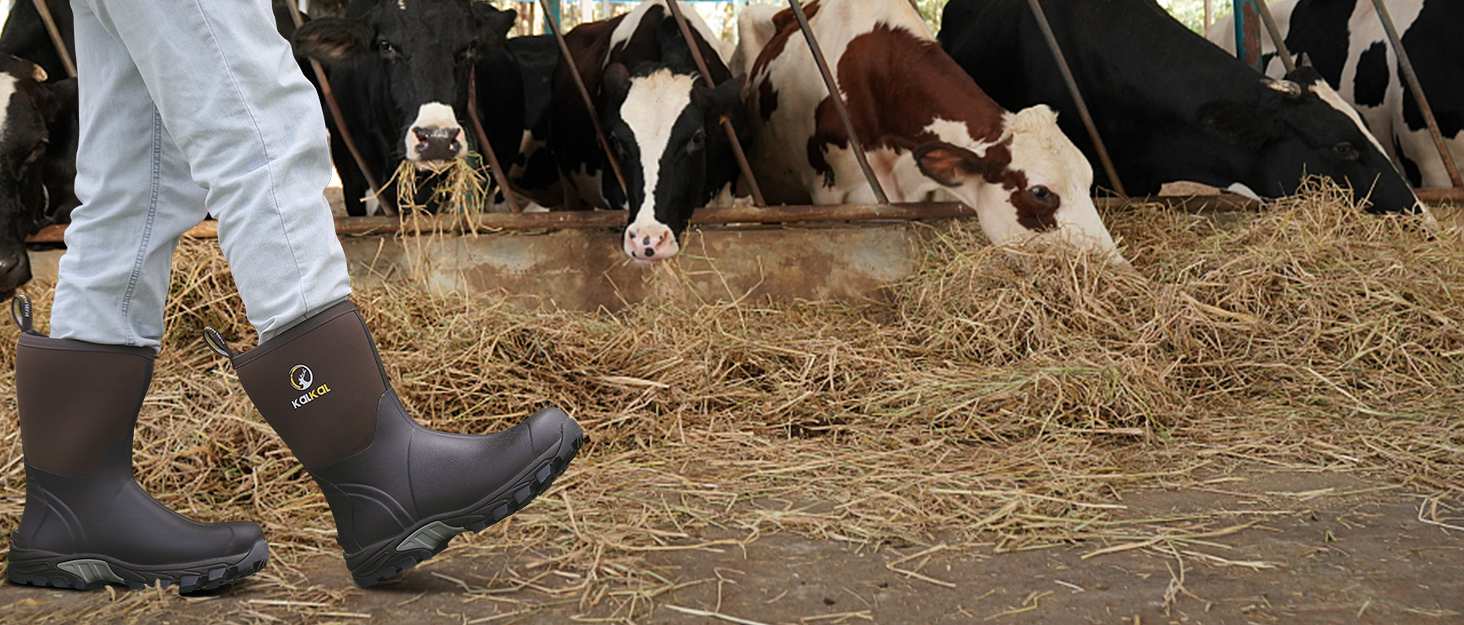 What Customers Said About Kalkal Farm Boots?
Kalkal has gained popularity among customers after launching shortly on the market. We have collected some customer reviews and analyzed them. Now let's see what the customers have to say about these boots.
Surprisingly Comfortable and Functional
For the upcoming winter, some customers require a dependable pair of waterproof insulated waterproof boots. The Kalkal Farm Boots pleasantly meet their requirements and needs.
These boots not only provided the desired utility, but they also provided outstanding comfort. The neoprene tops were snug yet comfortable across the calves, and the boots were warm and flexible. It has become a go-to choice for farmers in any place.
Versatile Use for Any Challenges
Customers said these boots are perfect for various outdoor activities. They praised the mid-calf waterproof design and neoprene upper insulation, which kept their feet dry and warm even in colder conditions.
The boots offered excellent support, making them ideal for extended outdoor work or simply as rain boots. Durability was not an issue, as these boots are built to last through multiple seasons.
Perfect Size and Fit
Some customers may be concerned about the sizing descriptions but were pleasantly surprised when the boots fit as desired.
Also, you don't have to worry about the fit as they offer the boots true to size. There are various sizes meticulously designed to accommodate the needs of different types of customers, from wide-width calves to flat feet.
A Great Alternative to Rubber Boots
Customers appreciated the quality of these boots and found that they were comfortable to walk with, even without socks, and exceptionally well-made.
The neoprene on half of the boot is much more comfortable compared to traditional all-rubber boots. These boots offered great value for the price, combining safety and comfort seamlessly.
Whether it was working on a farm, gardening, hunting, or even fishing, these boots proved their worth. They kept feet dry, offered comfort, and were suitable for warm and cold weather.
Style, Comfort, and Functionality
Even fashion-conscious customers were impressed by these boots. Kalkal boots combine style and comfort in their design. Also, they were lightweight yet durable, making them suitable for all-day wear.
The Kalkal Farm Boots have earned a reputation for their exceptional comfort, waterproofing, and versatility. With their positive customer feedback, the Kalkal Farm Boots are certainly worth considering for your next pair of outdoor footwear.
Are Kalkal Farm Boots Value for Money?
Kalkal Farm Boots' pricing is affordable to a wide range of clients, meeting a variety of budgets and preferences.
Prices for these boots range from $49.99 to $62.99, with variations based on size and occasional reductions. Customers can select a pair that not only fits their feet but also fits their budget.
Kalkal provides a one-year warranty to their clients. This warranty indicates the company's dedication to standing behind the quality of its products.
Furthermore, within 30 days after receipt, the return policy allows for valid returns, refunds, or replacements for free. Customers may shop with confidence knowing that their investment is safe with these rules.
You may still wonder: Are Kalkal Farm Boots worth the money? The answer is Yes undoubtedly. These boots exceed customers' needs and expectations for comfort, durability, and versatility.
Given the favorable customer comments, it is apparent that Kalkal Farm Boots do provide excellent value for money. These boots deliver on their promises, whether you're using them for daily activities, outdoor trips, or extreme winter circumstances.
These boots are a solid alternative for people looking for both quality and cost. The warranty and return policies demonstrate the brand's commitment to client satisfaction. So, if you're looking for farm boots that are worthy of your money, Kalkal Farm Boots are a great option.
Care Tips for Kalkal Farm Boots
Though rubber farm boots are durable and made to last longer, caring for your Kalkal Farm Boots is essential to ensure their longevity and maintain their quality.
By following these simple care tips, you can keep your boots looking great and ready for any adventure:
Regular Cleaning
You can simply flush your Kalkal boots with a water hose, or use a soft cloth instead to wipe off any dirt or debris.
For stubborn stains, use a damp cloth and mild soap to gently clean the areas. Avoid using harsh chemicals or abrasive cleaners, as they can damage the leather or rubber components of the boots.
Avoid Direct Sunlight
Another essential tip is to avoid exposing them to direct sunlight for prolonged periods. While rubber is a durable material, prolonged exposure to sunlight can cause it to deteriorate and lose its integrity over time.
Prevent Odors
Rubber boots can keep your feet dry inside, but they can also trap moisture and sweat inside. If there is a bad smell inside your boots, you can use clean water with white vinegar to wipe down the interior of the boots. Or putting some baking soda or tea bags inside the boots can eliminate unpleasant smells.
Drying Properly
Before storing the boots, it's crucial to dry them properly to avoid damage. Remove any excess moisture by gently patting them with a dry cloth or tissues. Then, let them air dry at room temperature, away from direct heat sources such as radiators or sunlight.
Avoid using a hairdryer or placing them near a fire, as excessive heat can cause the leather to become brittle or warp.
Storing Correctly
When not in use, keep your Rubber Farm Boots in a cool, dry location. Avoid storing them in plastic bags or airtight containers, since this can make the boots moldy through time.
Instead, you can use a boot tree or stuff them with newspaper to help maintain their shape. Additionally, remember to keep them away from direct sunlight or extreme temperatures.
Remember, proper care and maintenance are integral to prolonging the life of your Boots. By following these care tips, you can ensure that your boots remain comfortable, durable, and stylish for many years of use.
Conclusion
Finally, as seen by outstanding customer feedback, Kalkal Farm Boots not only met but exceeded expectations. These boots are extremely comfortable, versatile, and long-lasting.
Based on their excellent features and outstanding performance, they have showcased their worth as a dependable choice for people looking for comfort and functionality in their outdoor footwear. If you are interested in getting one, here are more styles for your choice: KalKal Rubber Boots for Farm.