Hunters know that things can be challenging when you spend a day outdoors, especially when the temperature lowers and the wind chills. The cold may get into your bones, making it difficult to concentrate on the hunt. Frozen toes may turn a fun pursuit into a painful experience.
This is where Boot Blankets come in handy. They are your cold-fighting secret weapons. We'll explore the world of Boot Blankets and how they can improve your hunting experience better in this complete guide. So, if you want to keep your feet warm and cozy, look no further.
Let's start to look at what they are, what their primary features are, and, most importantly, whether they are useful for hunting.
What Are Boot Blankets?
Boot blankets are a kind of accessory designed to give insulation and protection to your boots and feet, especially in cold weather.
They're usually made of a warm, insulating material like fleece or thermal cloth. Boot blankets are intended to be worn over boots or shoes as an extra layer against cold temperatures and keep your feet warm.
These accessories frequently have a snug and adjustable drawstring to keep them in place on your boots. Usually, boot blankets will additionally have features such as water resistance or windproofing to provide further protection from the elements.
Boot blankets are particularly popular among outdoor enthusiasts, like hunters, hikers and others who spend extended periods of time in frigid conditions.
Moreover, boot covers can also help protect your boots from dirt, debris, and damage, increasing the lifespan of your hunting boots.
Key Features Of Hunting Boot Blankets
Following that, we will look at essential features and purposes of insulated boots blankets, most importantly, whether they are useful for stand hunting.
Insulation That Matters
The basic function of Boot Blanket is its insulation. This is the characteristic that makes all the difference when you're out in the cold. The material in Boot Blankets is designed to trap heat and create a cozy cushion around your feet.
The insulating material keeps you warm and allows you to focus on the hunt rather than the weather. Look for Boot Blankets with adequate insulation to keep your feet toasty no matter how cold it gets.
Waterproof and Durable
The next important features to consider are waterproofing and durability. All of these parts function together to keep your feet dry and your Boot Blankets in good shape.
The waterproofing feature keeps moisture out of your boots, keeping your feet dry and avoiding the discomfort of damp socks. The durability aspect ensures that your Boot Blankets can survive the elements, such as harsh terrain, sharp items, and abrasive surfaces.
Ease of Use
Boot Blankets are intended to be used with ease. You can easily put them over your boots and take them off just as easily. This is essential for making quick adjustments in the field.
Whether you're stalking the games or just waiting in a hunting blind, you simply need to control your temperature, the easy usage of Boot Blankets ensures that they won't slow you down.
Camouflage Design
The strategic concealment for hunting also matters a lot. Many Boot Blankets use camouflage patterns as their main design. This allows you to remain hidden from your prey and can make a major difference in your hunting success.
Sizing and Fit
As with any other hunting gear, the proper size is critical. Boot blankets are available in a variety of sizes to accommodate various boot sizes and styles. They also feature adjustable pull straps to allow your Boot Blanket to fit securely on your boots, increasing insulation and protection.
These distinct features make Boot Blankets a necessary addition to your hunting equipment. They're not just about keeping you warm; they're about allowing you to perform at your best in the natural world, regardless of the weather. With the right hunting boot insulator, you can take your stand hunting experience to a whole new level of comfort and success.
Do Boot Blankets Work?
It's a reasonable question. After all, no piece of hunting equipment is worth a penny until it performs on what it promises. Boot blankets, on the other hand, have gained their reputation among hunters for good reasons.
To put this matter to the test, we did a thorough research and obtained firsthand information from hunters who have used Boot Blankets.
What do you recommend to wear for winter hunting?
| | |
| --- | --- |
| Boot Blankets | Votes: 76.5% |
| Insulated Rubber Boots | Votes: 8.8% |
| Insulated Leather Boots | Votes: 15.7% |
The majority of those polled clearly recommend Boot Blankets. They received 76.5% of the votes, suggesting that this boot insulator is hunters' favored choice.
Heavy-duty insulated rubber boots received only 8.8% of the vote, whereas insulated leather boots received 15.7%. The poll shows that boot blankets do work well to keep hunters warm during hunting trips.
It is obvious that boot blankets are actually an excellent way to keep feet toasty on cold-weather hunting trips.
The following is the feedback about what experienced hunters said about the boot insulator cover:
Warmth: The majority of hunters claimed that Boot Blankets improved their hunting experience by providing the necessary warmth. These smart boot insulators trap heat well, producing a pleasant microclimate around your feet. Even in subzero weather, many hunters were pleased with the amount of warmth offered by Boot Blankets.
Hand Warmers as an Extra: Many hunters pair boot blankets with hand warmers to increase the warming factor. This combo is thought to be a winning tactic for those extra-cold days out in the field. By inserting hand warmers inside the toe and then covering with a pair of Boot Blanket, you can maintain ideal comfort all day.
Noise and Mobility: It's true that some hunters have raised concerns about the bulk and noise created by Boot Blankets when moving around. Some people said that boot covers can be noisy while walking on metal stands. Thus, mobility might be slightly compromised, Boot Blankets are highly suitable for stand hunting or sitting in a hunting blind all day. They are especially well-suited for immobile hunting settings when remaining warm takes priority over extended mobility.
In summary, countless hunters have tried and tested insulated Boot Blankets, and the verdict is clear: they perform an excellent job of keeping your feet warmed during cold-weather hunts. When used with hand warmers, they make an unstoppable combination.
Now that we've determined that Boot Blankets do work well, let's look at some of the great insulator options for hunting trips.
Best Boot Blankets for Hunting: Artic Shield vs Ice Breaker
Choosing the best-reviewed Boot Blankets for your next hunting excursion. There are two popular options available on the market: Arctic Shield vs Ice Breaker. We'll share vital insights about them as follows:
Arctic Shield Boot Insulators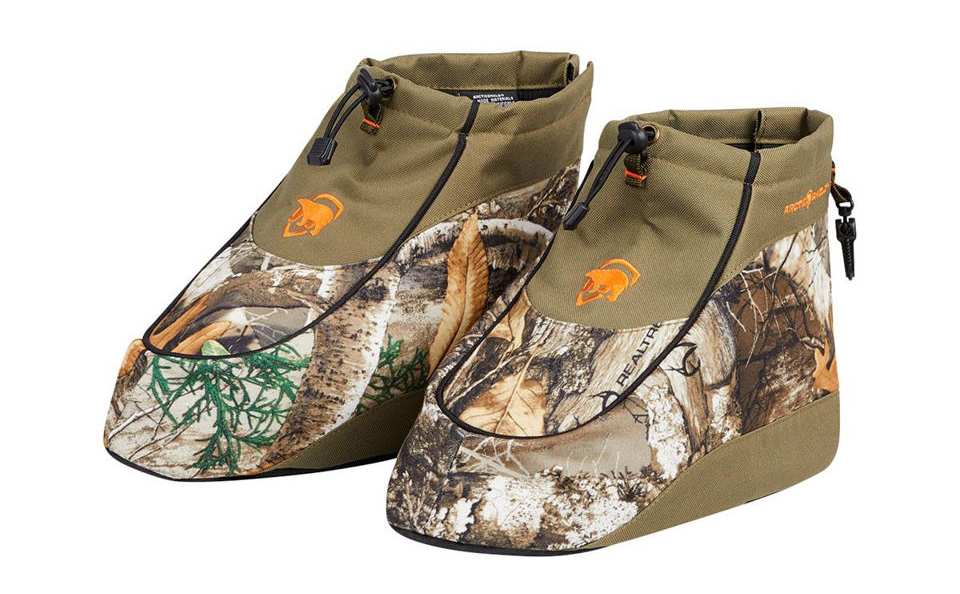 If you are tired of getting cold feet in outdoor activities, ArcticShield boot insulators are designed to address this issue. These insulators have heat retention technology to capture over 90% of your body heat, keeping your feet comfortable. They are appreciated for their mobility, lightweight design, and cost-effectiveness.
Whether you're hunting, ice fishing, tailgating, or snowmobiling, these packable boot insulators are ideal for any outdoor activity that requires you to sit for extended periods of time in cooler weather.
Features:
Heat retention technology retains over 90% of body heat.
Durable and insulating polyester outershell and liner.
Windproof and water-resistant.
Portable and lightweight.
Fit in your pocket or backpack for easy transportation.
Pros:
Lightweight and Portable for easy packing
Effective Insulation to keep feet warm
Versatile for various hunting scenarios
Affordable
Cons:
Sizing Concerns and recommended getting a size larger
Will make noise on metal stands, which can be a concern
May require hand warmers for added warmth
Icebreakers Boot Blanket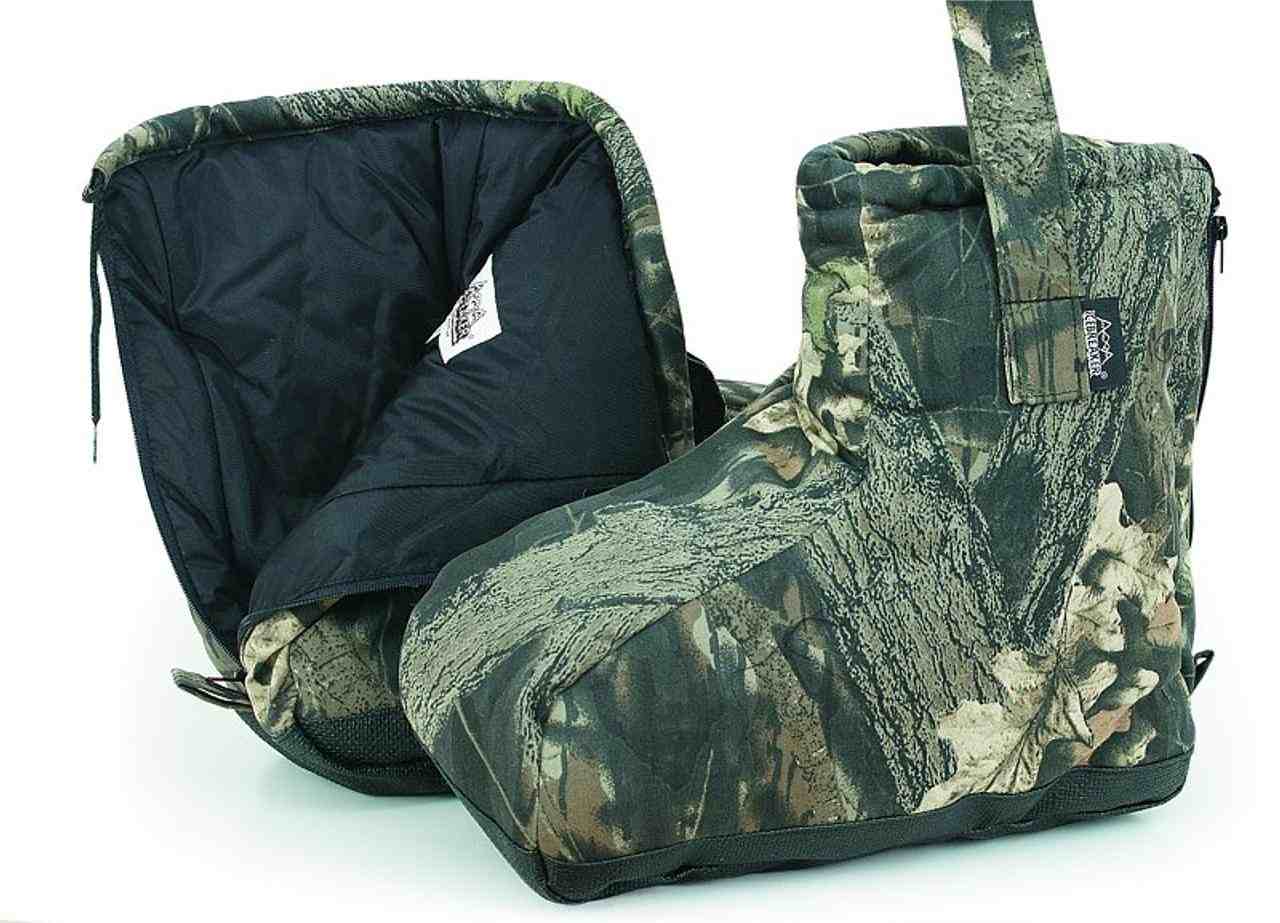 The ICEBREAKER Boot Blanket will keep you warm and comfortable during inactive tasks in cold weather. This overboot is ideal for stand hunting, fishing, snowmobiling, and other outdoor sporting activities in cold weather. Its 2-ply 300 gram high loft insulation keeps your feet warm while you participate in your favorite cold-weather sports.
Features:
2-ply 300 gram insulation provides superior warmth and comfort.
Tough poly/cotton outer shell.
Nylon inner repels water and keeps your feet dry.
Silent, slip-resistant vinyl sole.
Has zipper in the back allows easy removal.
Available in Mossy Oak style.
Pros:
Superior Warmth. More warmer than Arctic Shield
Ideal for stand hunts
No additional heat pack required
Cons:
It is a bit huge and bulky to carry
Sizing is tight
Limited portability for highly mobile hunters
Arctic Shield vs Ice Breaker: Which one is the best?
From our research, the majority of those polled clearly recommend Arctic Shield Boot Blankets as they are more popular on the market.
If you prefer mobility and are frequently on the move during your hunts, Arctic Shield Boot Blankets may be the best option for you. They provide effective warmth and mobility for many hunting scenarios, and they are less expensive.
Ice Breaker Boot Blankets, on the other hand, give better warmth and can be an ideal option for stationary hunting, particularly in hunting blinds, provided you hunt in really cold conditions and remain satisfied with limited mobility.
Ultimately, the choice between these two boot covers depends on your hunting style, weather conditions, and personal preferences for warmth, movement, and bulkiness.
Conclusion
So, if you want to keep your feet nice and warm in the outdoors while also ensuring your hunt is enjoyable and successful, boot blankets could be the game changer. If you are not sure of which option is better for you, read our guide and you will find what you've been looking for.