Planning your next hunting expedition and want a fresh pair of hunting boots? Well, we have researched a lot and compiled this list of lightweight hunting boots that are ideal for almost all types of hunts.
Hunting boots make a crucial part of hunting essentials. From keeping your feet dry and comfortable to offering you a tough stand on the ground, hunting boots are of great importance.
But which hunting boots are the best for you? Should you buy more rugged and heavy hunting boots or go with the lightest hunting boots available in the market? These are a few questions that we have tried to answer in this post.
So, without wasting any time, let's get started!
What Are Hunting Boots?
The process starts with understanding how hunting boots are different from any other type of boots, especially hunting boots.
Hunting boots are strong and lightweight boots with high coverage often extending to the knee. Also, they have a lacing arrangement that goes from the instep to the top.
These boots offer great comfort and grip for you to freely and sturdily roam in the hunting fields. Initially, there were only heavy and sturdy hunting boots in the market, but today lightweight hunting boots are easily available that make wearing and maneuvering easier.
Why Do Hunters Need To Wear Special Hunting Boots?
No matter whether you are chasing deer or hunting doves in the fields, the chances are that you will be walking and covering a large off-terrain area. This is challenging, especially for your feet.
The rough terrain can wreak havoc on your feet causing all sorts of pain and discomfort. Hunting boots are specially designed to offer comfort and make it easier to scout off terrain.
Moreover, a successful hunting expedition may take a day or two to complete and while you are out in the open exposed to a wide range of elements, to keep your feet warm, dry, and safe, you need high-quality, weatherproof, and lightweight hunting boots.
Factors To Consider When Choosing Lightweight Hunting Boots
From sturdy and heavyweight options to the lightest hunting boots, the market is full of different kinds of options. Making a selection can be tough till the time you do not know what to check for.
Here are a few factors that hunters must consider when shopping for hunting boots:
Ventilation and waterproof construction 
It is very important for you to buy hunting boots that are waterproof and offer great ventilation, while waterproofing avoid water from getting inside the boot and makes your feet wet, proper ventilation ensures that inside moisture is quickly dried up to curb bacterial growth and related odor.
Fit and size
Wearing well-fitted and right-sized hunting is vital to maintain comfort and safety during the hunt. You would be walking through rough terrain hunting for animals or birds, and with your feet sliding and feeling painful inside the boots, you cannot be productive.
Hence, it is significant that you should buy the right pair of hunting shoes that fit you well.
Weight
People usually believe that hunters should wear heavyweight boots, but the reality is different. The lighter you feel on your feet, the better you will be able to perform.
Moreover, you will have to stand for long hours during the hunt and or walk continuously, which is better if you wear lightweight hunting boots.
Usage
How frequently you go hunting or which terrain you explore is also a determining factor when buying hunting boots. If you want your hunting shoes to last longer, there is a higher price you will have to pay.
Type of Terrain
Finally, you must understand the choice of terrain to buy the right hunting boots. For plain areas, you must buy lightweight hunting boots with soft insoles. However,  if you will be exploring rocky terrain with significant craggedness, go for a more rugged variant.
Best Lightweight Hunting Boots: Comparison And Reviews
We have compiled this list of the best lightweight hunting boots for men, women, and kids in 2023. This will further make it easier for you to pick the best pair for your next hunt.
For Men:
Price: $209.99
Features:
Lighter than other styles.
Enable better traction on rough terrain.
Exclusive scent control.
Moisture and waterproof management
Abrasion-resistant and durable.
Comfort tongue technology offers relief and flexibility.
Ensure all-day comfort.
Irish Setter boots are known for their ruggedness. One of the finest and lightest hunting boots is the Vaprtrek 2815 Leather Camo Hunting Boots.
Extremely lightweight, thanks to RPM technology, and these boots are completely waterproof to keep your feet protected from the elements.
They also feature the addition of scentban which is an Irish exclusive technique to eliminate odor-causing bacteria. They feature 100% leather and synthetic construction.
Price: $179.99
Features:
Tough but comfortable, 600-denier textile uppers.
Maximum abrasion protection.
3M Thinsulate Insulation.
Moisture-wicking linings.
Superior waterproof protection and breathability.
Ideal insulation, great comfort, and waterproof construction, Cabela's Treadfast GORE-TEX Insulated Hunting Boots have all the features that modern hunters look for.
Their lightweight construction makes them highly durable and rugged. They come with GORE-TEX lining with the moisture-wicking and waterproof features. The insoles are highly comfortable and feature Ultralight TC3 Ortholite memory foam.
Features:
Complete 100% waterproof to keep your feet dry and warm.
Breathable lining and EVA midsole.
Anti-slip and shock absorption.
Temperature-controlled comfort.
Strong, durable but lightweight.
100% warm and waterproof, the Kalkal Rubber Insulated Warm Hunting Boots are ideal for your monsoon hunting expedition. They are extremely lightweight hunting boots featuring a very ergonomic design.
The most striking feature of these hunting boots includes a 6mm neoprene interior, breathable lining, and lightweight EVA midsole. The rubber sole, anti-slip feature, and shock absorption abilities make it an ideal pair of hunting boots for muddy terrain.
Overall, these are one of the lightest hunting shoes that offer great comfort in the price range.
Price: $120.00
Features:
Built-in quality waterproofing and insulated materials.
Light and flexible cement construction.
Removable EVA insole.
Soft Toe design.
If you are searching for quality in your budget, then Rocky Core Waterproof Insulated Hunting Boots are also a better option available in the market.
The Rocky waterproof construction boasts of its efficacy no matter the amount of water it contacts. Moreover, they are made of 900D Cordura Nylon which makes them the lightest hunting boots on the market.
The PVC outsole further enhances their durability, comfort as well as anti-slip quotient.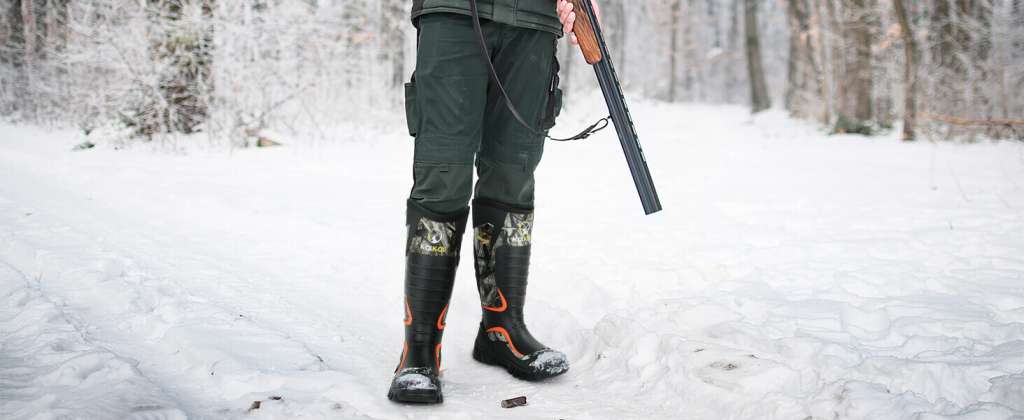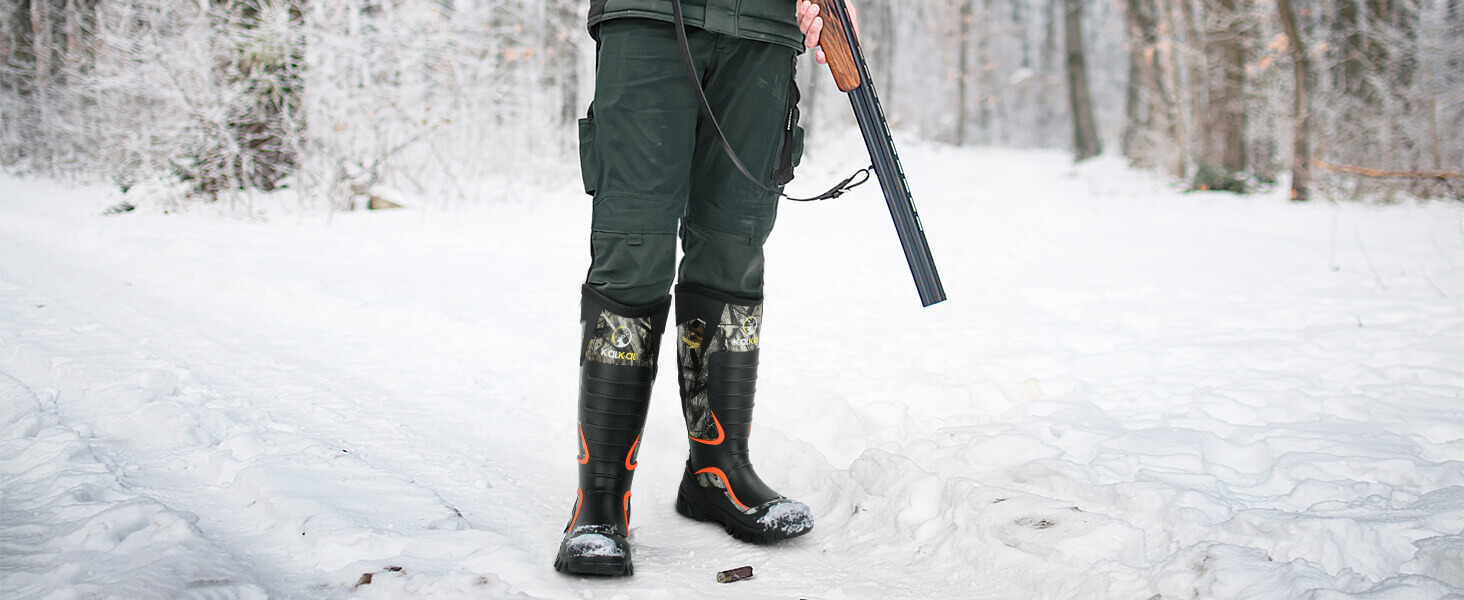 For Women:
Price: $159.99
Features:
Tempsens technology keeps you dry and comfortable.
Removable polyurethane footbed.
Exclusive scent control.
Mossy Oak camouflage design.
In the women's category, Irish Setter's MUDTREK™ women's 8-inch camo boot is a favorable option to buy. Featuring full-grain leather construction and abrasion-resistant Armatec™ XT, these lightweight hunting boots for women are highly durable and comfortable.
They feature several trademarked features of Irish Setters including 400-gram PrimaLoft®, ultradry™, and ScentBan™.
Features:
Durable rubber for 100% Waterproof.
Breathable Insole keeps you dry and warm.
Pull-on Tab for easy put on and take off shoes.
Build-in steel shank for arch support and foot protection.
Suitable for hunting as well as other outdoor work.
Amazing design, great comfort, and 100% waterproof construction, what else do you expect from the hunting shoes? Available in black and brown color options, the Kalkal 12" Mid-calf hunting boots are specially designed not only for men, but also for women's feet.
They are very soft and flexible with a breathable insole and an anti-slip outsole. Highly comfortable and rugged, these are one of the best lightweight hunting boots for women.
Price: $180.00
Features:
Extended rubber coverage and 100% Waterproof.
Odor control and moisture management.
Arctic grip and wet traction.
Light weight midsole for all day comfort and support.
What makes Muckboot arctic ice hunting boots cut above the rest is its unique XS Trek Evo compound that add durability and wet ice traction.
They are 12" height hunting boots with extended rubber coverage to ensure your safety in the fields. It would be extremely comfortable to wear these hunting boots which have effective grip, great heat retention, as well as a insole design.
Price: $170.00
Features:
Suede leather and abrasion-resistant nylon.
100% waterproof allows moisture to escape.
Polyurethane footbed provides superior shock absorption.
Designed with a narrower heel to specifically fit the shape of women's feet.
Explore the challenging territory in style and comfort with Wayfinder by Danner. One of the best-known brands in the hunting shoes category, Danner has designed this hunting boot, especially for women's feet.
It weighs only 800 grams which makes it one of the lightest hunting boots for women. Also, it has a waterproof lining to keep your feet dry Danner Plyolite™ midsole for long-lasting comfort.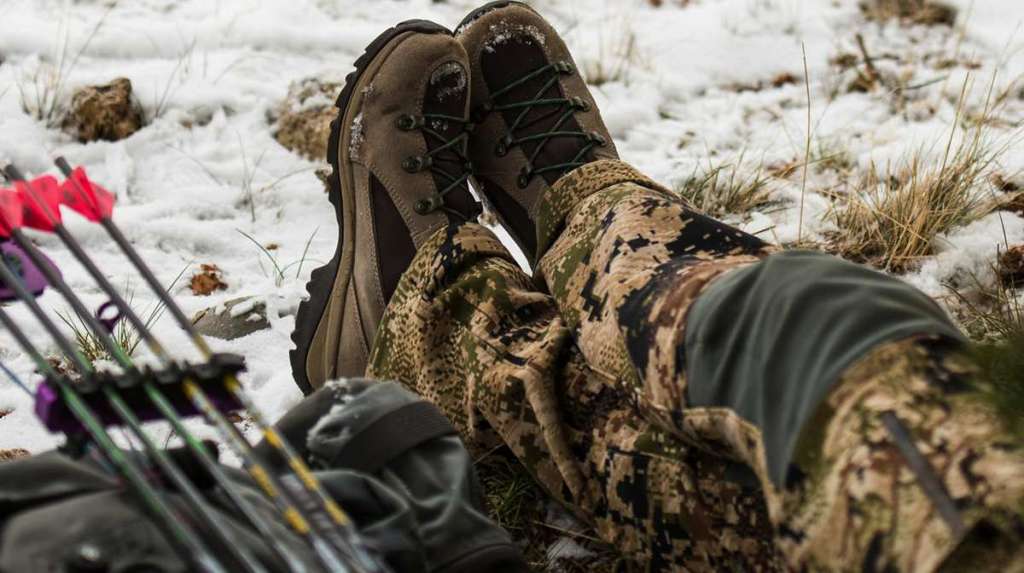 For Kids:
Price: $105.00
Features:
Guaranteed waterproof full-grain leather construction
Light and flexiblecement.
Anti-slip rubber outsole.
Realtree Camo style.
Soft toe design.
Weighing just 800 grams, the Rocky Spike Big Kid Waterproof Outdoor boots from Rocky Boots are perfect for your hunter kid.
These boots have Thinsulate Ultra Insulation, guaranteed Rocky Waterproof construction, very comfortable cushioned insole as well as a rubber outsole making them 100% waterproof. It offers discounts on the boots sometime so you can get them in a very fair price.
Price: $69.99
Features:
Tough 900-denier textile uppers with 100% waterproof.
Removable orthotic polyurethane insoles.
Crafted with lightweight materials and camo-wrapped EVA midsoles.
Equipped with tough rubber outsoles that grip traction.
Combination of cushioning, support, and shock absorption.
Cabela's brings one of the finest, most comfortable, and lightest hunting boots for kids. 100% waterproof and highly insulated, these boots are perfect to keep the tiny toes comfy and dry during the hunt.
These rugged pair of hunting boots for kids are fully camouflaged and have EVA midsoles with durable rubber outsoles.
Price: $90.00
Features:
Wool felt midsole - air circulation and odor control.
Rears, abrasions resistance.
Ankle support and protection.
Unique lug design to shed mud ad muck.
Lil' Burly from LaCrosse is one of the perfect hunting shoes for kids. Designed to offer greater comfort and grip, these boots promise durability and superior grip.
Lightweight construction with 1000G Thinsulate Ultra insulation and all-terrain built, these are the lightest hunting boots your child can wear when accompanying you to the hunt.
Price: $80.00
Features:
Subzero Neo-Tech insulation.
Side handles for easy on and off.
100% Waterproof.
Classic mossy oak patterned design.
Non-slip, non-marking and self-cleaning outsole.
These BOGS kids hunting boots are very comfortable to wear and are 100% waterproof. They feature durable hand-lasted rubber and moisture-wicking lining to help you stay dry and comfy all day. Designed for kids, these boots are more than just footwear – they're a reliable companion for all kinds of adventures.
Wrapping It Up!
Hunting boots are essential for a successful hunt. If your feet aren't safe and comfortable, you are compromised at the field. To enhance your comfort and enjoy hunting, you must invest in a good pair of lightweight hunting boots.
The options mentioned above have the best and lightest hunting boots added to the list, pick any one of them as per your liking and we guarantee that your next hunt would be the best one.