When it comes to catching seafood, having the right equipment is essential. There is no doubt that fishing nets, traps, and fishing rods are all essential items, but one that often gets overlooked is a pair of good fishing shoes. In this blog, we will explore the different types of footwear that can enhance your seafood catching experience and ensure your safety in various environments.
Waterproof Boots
When choosing shoes for catching seafood, waterproofing is an important factor to consider. Since you'll be working near water, it's crucial to keep your feet dry. These boots for fishing provide excellent protection against water, preventing your feet from getting wet and minimizing the risk of discomfort or an infection resulting from the water splashing on your feet.
One of the most popular types of waterproof boots are wading boots. The purpose of wading boots for fishing is to provide the best possible protection against the wet and muddy conditions faced by anglers and other outdoor enthusiasts. Wading boots for fishing are usually made from materials that are waterproof, such as rubber or neoprene, and feature a reinforced sole which increases the level of traction. Additionally, many styles come with a waterproof membrane, which adds an extra layer of protection.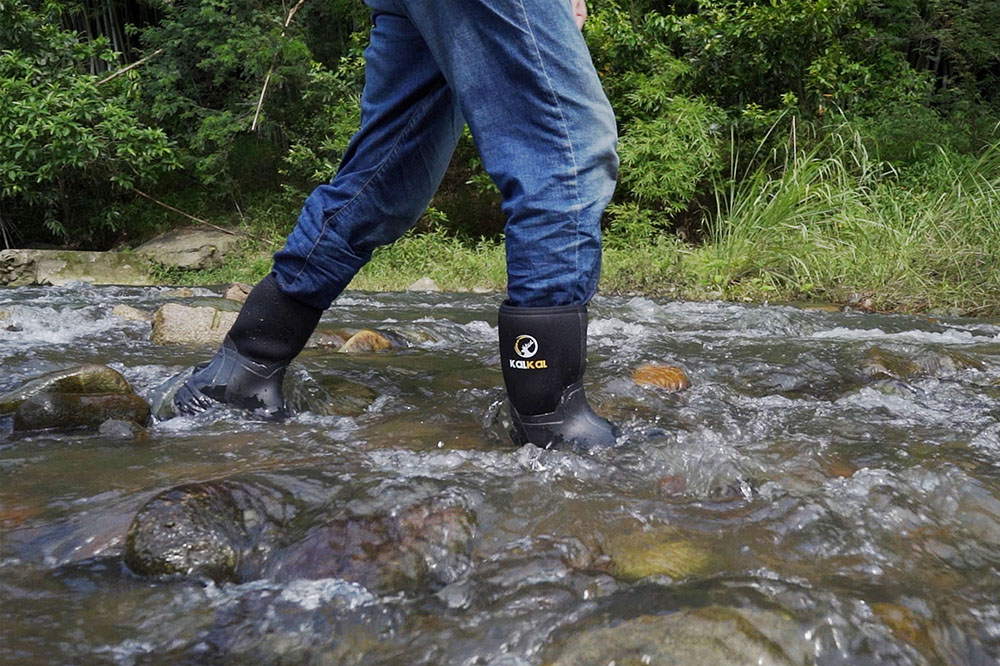 Waders
Whenever you venture into deeper water, it is essential to have waders with you. As well as providing protection for your feet, these special boots also provide protection for your legs, enabling you to protect the whole body. Waders are available in a wide selection of styles, including hip waders, waist-high waders, and chest waders. The choice depends on how deep the water is that you will be fishing in and your personal preference.
Deck Shoes
In order to be safe while fishing for seafood on a boat, it is crucial to have proper footwear on your feet so that you can stay protected. Deck shoes, also known as boat shoes, are a type of footwear designed specifically to provide excellent traction on wet surfaces. They often have a low-profile design and feature non-slip rubber soles with special patterns for grip and protection, reducing the risk of slipping and falling. For sailing and other activities related to water, they are popular choices.
Sandals
In warmer climates or during summer fishing trips, sandals can be a comfortable and practical choice. Make sure that you look for sandals that have straps that fit snugly around your feet and that provide arch support as well. Nonetheless, you should be aware that sandals do not offer the same level of protection as other types of footwear, so they may not be suitable for rocky or uneven terrains.
Diving Boots
Diving boots are an indispensable part of the gear for those who enjoy snorkeling or diving for seafood. These boots for fishing are designed to be worn with fins and provide thermal protection, as well as foot and ankle support. In diving boots, the material is typically made up of neoprene, which keeps the feet warm in cold water and protects them from sharp objects while diving.
For comfort, safety, and the overall enjoyment of your fishing experience, it is vital to choose the right shoes to wear when fishing for seafood. There is a vast selection of fishing shoes available, and there's a suitable option for every type of seafood catching activity. Make sure you place a high priority on the functionality, durability, and protection when making your selection.
Related Blogs:
Would Rubber Shoes Offer Protection in A Lightning Storm