When it comes to taking part in outdoor activities that involve cold, wet, and rugged conditions, you need to have the right footwear to make sure that you are protected. Insulated rubber boots are a popular footwear choice for their exceptional protection, comfort, and durability.
In this blog post, we will delve into the world of insulated rubber boots, explore the features and benefits of these boots, and find out the best insulated rubber boots.
What are the best insulated rubber boots?
The best insulated rubber boots should possess the following features.
Protection from the elements
Whether you're walking in the snow or braving the cold, insulated rubber boots will keep your feet warm and dry, even in the most challenging conditions. The insulation material serves as a barrier against the cold, preventing heat loss and ensuring your feet stay comfortable all day long.
Moisture management
Furthermore, the insulation is also designed to wick away moisture and prevent the buildup of sweat, which means your feet will remain dry and drier and there will be no uncomfortable dampness.
Comfort and cushioning
The insulation materials used in rubber boots provide additional cushioning and comfort, reducing fatigue during long hours of wear.
Durability
Insulation materials in rubber boots are designed to withstand wear and tear, providing the footwear with longevity for many years to come.
Our top pick: Kalkal insulated rubber boots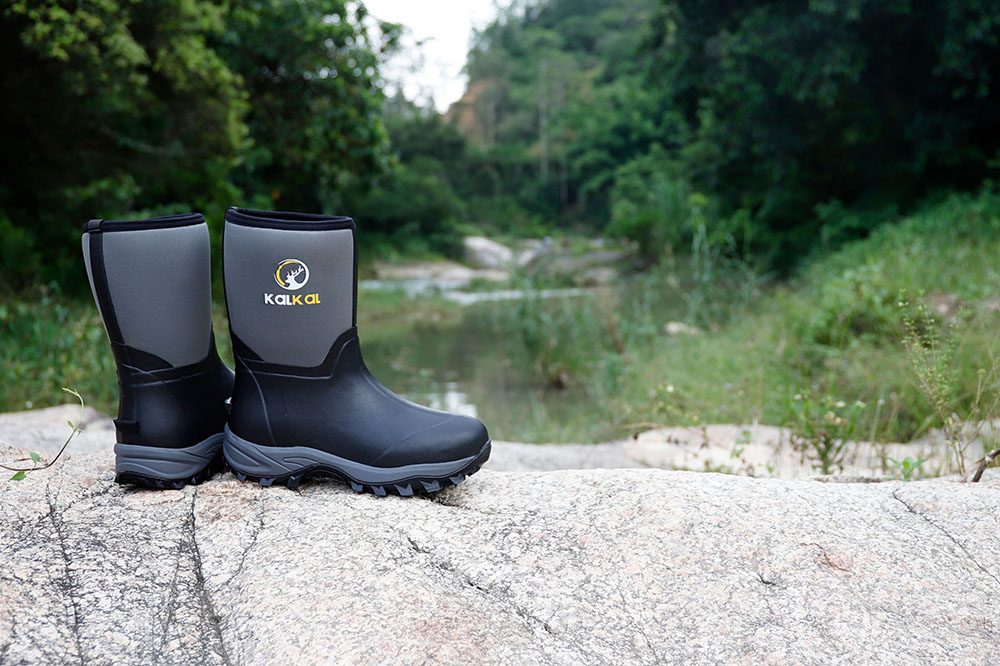 Key Features to Consider
When choosing the best insulated rubber boots, there are several critical factors that must be taken into consideration.
Insulation Material
The Insulation offered by different boots may differ, for example, Thinsulate, neoprene, or synthetic fibers.
Neoprene Insulation
Neoprene is a common insulation material used in rubber boots. Due to its outstanding insulating properties, neoprene has excellent thermal resistance, which makes it ideal for keeping the feet warm when temperatures are cold.
In addition, this material also provides resistance against water, making it suitable for wet environments. Neoprene insulation in rubber boots ensures that they are comfortable and protect the wearer against extreme weather conditions.
Thinsulate Insulation
There is also another insulation material commonly used in rubber boots known as Thinsulate. Thinsulate is a lightweight material that provides excellent insulation, and is suitable for cold and snowy environments. With Thinsulate insulation, rubber boots can provide warmth and comfort even when wet, allowing you to wear them for long periods of time.
Primaloft Insulation
Primaloft insulation is a synthetic microfiber material that provides superior warmth and comfort. This insulation material is moisture-resistant, keeping the feet dry and warm even in wet conditions.
Primaloft insulation has the unique ability to retain heat while remaining breathable, preventing overheating, discomfort, and other unpleasant feelings during physical activities. The Primaloft insulation in rubber boots makes them ideal for many types of weather and provides excellent insulation and comfort.
Each material has its own unique qualities. When choosing the ideal insulation material, it is important to take into consideration the types of activities in which you are going to be involved as well as the temperature range that you will be exposed to.
Insulation Weights
There are different weights of insulation available for insulated boots. The boots might work better for mild to freezing temperatures, depending on the insulation weights they have. In general, lightweight insulation is the best choice in terms of mild temperatures, while mid-weight insulation is best for cold temperatures. For freezing temperatures, heavyweight insulation is best suited.
200 grams: This is a great weight for cool weather conditions and low activity levels, or for heavy activity levels in cold weather.
400 grams: Ideal for cold temperatures and moderate activity levels.
600 grams: Great for colder weather conditions and low activity levels.
800 grams: The best option for very cold temperatures and vigorous activities.
Temperature Rating
Ensure that you choose boots that have the right temperature rating for your needs. The boots with the highest temperature ratings are more suitable for cold temperatures, while those with moderate ratings are better suited for milder conditions.
Waterproofing
It is important to make sure that the boots are completely waterproof. Ensure that your boots are designed with features such as sealed seams and waterproof membranes to ensure that your feet will remain dry even when you are trudging through puddles or snow.
Comfort and Fit
A good pair of insulated rubber boots should provide a snug and comfortable fit so that your feet don't slip and slide around, thereby giving you a comfortable wearing experience. Make sure there is enough room inside to accommodate socks and allow for some wiggle room for movement. Additionally, look for boots with cushioned insoles so that you will be able to walk in comfort.
Conclusion
The above information should have given you a good understanding of what are the best insulated rubber boots. In closing, a pair of insulated rubber boots is a must-have for anyone who ventures into cold, wet, or rugged environments. The best insulated rubber boots should provide exceptional protection, comfort, and durability. Invest in a reliable pair of insulated rubber boots, and you'll be ready to conquer any outdoor challenge while keeping your feet warm and dry.