What is it about hunter boots that make them so popular? The popularity of hunter boots can be attributed to the fact that they are designed to provide comfort and protection to hunters while they are out hunting.
But do you really know how hunter boots are constructed? Is there a specific design that makes their features so advanced?
Before we move onto the practical steps of cleaning, treating, and maintaining hunter boots, it is important to understand some of the details of the construction and materials that make up them.
Anatomy of Hunter Boots
The inside and outside of a hunter boot are the two distinct areas in which it can be classified. By going into detail on each aspect of a pair of hunting boots, you will gain a deeper understanding of a pair of hunting boots, which in turn will assist you in choosing a pair of hunting boots as well as cleaning, treating and maintaining them.
Typically, the outside of hunter boots is shaped to provide traction on slippery surfaces such as mud and snow, so they can be easily used for hunting. Also, it provides a good amount of ankle support for the wearer and helps protect their feet from sharp objects.
Lastly, it can help to reduce the amount of dirt and debris that is brought into the boot by the sole.
Hunter boots have an inside that has been designed to provide comfort and cushioning to the feet whenever you go hunting out in the field. It helps to keep the feet warm and dry in wet and cold conditions.
Additionally, the cushioning and support provided by the product help to reduce fatigue during long periods of standing.
Outside the Hunter Boots
There are four specific areas outside the hunter boots, which are the uppers, the shanks, the midsoles, and the outsoles.
Uppers
The uppers of the hunter boots can be constructed from many different materials, including leather, synthetics, rubber, and other hybrid materials.
Uppers are considered to be a protective covering for the foot so that it is protected from dirt, rain, and other elements, while allowing it to breathe and remain flexible at the same time. However, not taking care of boots properly can cause them to dry out and crack over time.
Shanks
The shank found on hunter boots ensures that the boots have a great arch support that can prevent the boot from folding in half when it is being used.
This is helpful since it helps to provide stability and reduce fatigue, making it easier for long periods of time to walk without feeling tired. Moreover, it helps to prevent your foot from being damaged by objects that are sharp and obstructive.
Midsoles
There is usually a light and flexible material such as EVA foam used in the midsoles of hunting boots, which is an excellent material for use in boots. In addition to providing shock absorption and cushioning, it also contributes to the overall stability of the boots.
Outsoles
In hunting boots, outsoles are the ground-contact parts of boots, and they are designed to provide a good grip and traction on not only mud and snow, but also on rocks, moss, and a wide variety of surfaces.
Outsoles are also designed to provide protection from sharp objects, and they are usually made of rubber or polyurethane material for their durability as well as their protective properties. Outsoles also have the function of ensuring stability and grip in an outdoor environment.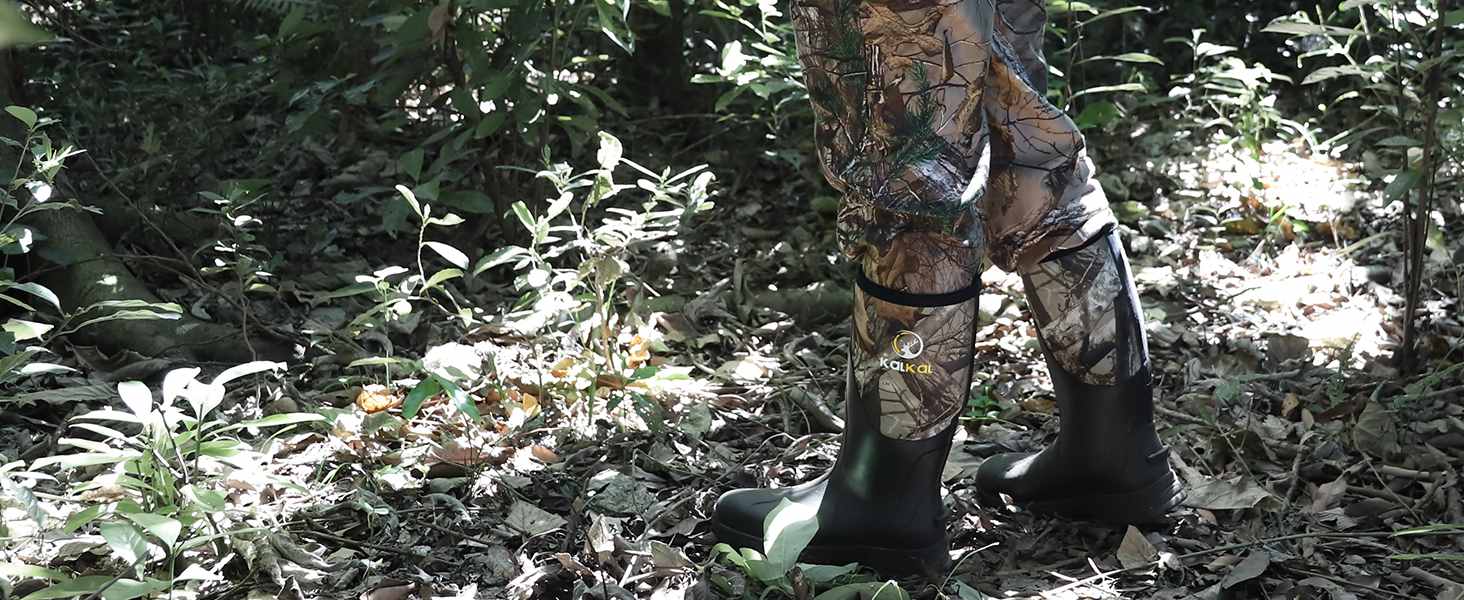 Inside the Hunter Boots
The footbed and insulation that are located inside the hunter boots are the most important components of the boot.
Footbeds
In hunter boots, the footbeds have been designed to provide extra cushioning and support for the foot, in order to make the boots more comfortable. Additionally, it contributes to the preservation of the shape of the boot in the long run.
Insulation
Insulation in hunter boots is usually made from synthetic materials such as Thinsulate. Thermal insulation is provided while remaining lightweight and breathable. The insulation keeps the feet warm and comfortable during cold weather.
Typical Hunter Boots Materials
There are several kinds of materials that are commonly used in the production of hunter boots.
Leather
It has always been the preference of hunters to have hunter boots made of leather. The durability of leather makes it ideal for outdoor activities like hunting because of its water and wind resistance.
Hunters can also wear it for long periods of time without discomfort due to the good insulation and support it provides. The care of leather is very important in order to prevent the leather from drying out and cracking.
Synthetic
Many hunting boots are made of synthetic materials that are lightweight and breathable, which can make them suitable for use during warm weather conditions. The cost of these fabrics is generally lower than the cost of leather, and they require less maintenance than leather does.
Rubber
As a material, rubber plays a significant role in the construction of these boots, whether they are soles or whole boots. Rubber boots need to be conditioned just like leather boots in order to prevent them from cracking and drying out during their lifetime.
Conclusion
The popularity of hunter boots is very high among hunters, and the reasons are obvious. It is essential to have a good pair of hunter boots in your hunting gear collection.
In terms of function, hunter boots made from different materials have different characteristics based on the materials used.
Choosing the right pair of hunting boots can make a big difference to your hunting experience, so take into consideration the pros and cons of each material, and do your best to ensure that your requirements are met with a pair you can rely on.
You may also like:
Kalkal Camo Hunting Boots - Best for Cold Weather
How to be A Responsible and Ethical Hunter
How to Choose A Hunting Knife-Outdoor Survival