Whether it's known as rain boots or Wellington boots, rubber boots have become a popular footwear choice for people from all over the world due to their versatility. Although they may not be the trendiest type of footwear, they do serve a practical purpose and provide a number of benefits.
If you are wondering why people choose to wear rain boots and why they are an important part of their wardrobe, here is a blog where you can find answers. This blog will cover seven reasons for wearing rain boots, as well as a guide for finding the right pair that suits you the best.
Keep your feet dry
During wet weather, one of the main reasons for wearing rain boots is so that you can keep your feet dry. An important feature of rain boots is that they have a high upper part of the boot that helps to keep the water out and keeps the material from getting soaked. Rain boots are made from waterproof material that keeps your feet dry under the heaviest rainstorm.
Having wet feet can be uncomfortable, and this can lead to blisters or other discomforts, so wearing rain boots can make sure that your feet remain healthy and comfortable during the rain.
Slip-resistant soles
Many rain boots are equipped with slip-resistant soles, and this provides better traction on wet and slippery surfaces. It can also help reduce the risk of accidents, such as slips and falls, which can be dangerous, particularly if they occur on surfaces such as wet leaves, mud, and even puddles.
The addition of traction can also help to reduce fatigue, so that people are able to walk and stand for a longer period of time without feeling exhausted. It is extremely important to wear water boots that have a good grip when you are planning to walk or work outdoors in wet weather.
Easy to clean
There is one great thing about rain boots: they're easy to clean, so there is no need to worry about them getting dirty. There is usually a smooth, nonporous surface on rain boots that repels dust and water. Due to this, they can be easily cleaned with just a damp cloth or to get a quick wash with a hose.
Also, they are usually made from rubber or vinyl materials that are resistant to stains, which makes them a great low-maintenance footwear option for those who wish to avoid frequent cleaning.
Keep your feet warm
In many rain boots, you can find insulated linings that can help keep your feet warm and dry if there is a sudden drop in temperature. You might find this extremely helpful if you are walking in the snow, in the rain or in any other environment where it's wet.
It can be very uncomfortable to walk on your feet when they are cold, wet, and damp.
Versatility
Rain boots are so functional and versatile, they aren't just limited to rainy days – they can also be useful in various other situations too. You can wear them when you are gardening, tending to the farm, fishing on the deck, hiking through mud and sand, or doing any other outdoor activity.
Wide range of styles
There is now a vast range of stylish rain boots on the market that can cater to any preferences and tastes. There's a rain boot for everyone. Whether you're looking for smart ankle boots or patterned wellies, you're sure to find one that will suit your style and preference.
Durable and long-lasting
Rain boots are made from strong, flexible materials such as rubber or PVC, which means that they can withstand daily wear and tear. With proper care, a good quality pair of rain boots can last you for many years to come, so it is definitely worth investing in a high-quality pair of boots.
If you intend to buy a pair of rain boots, there are a few important factors you should keep in mind.
Material
Generally, rain boots are made from rubber, PVC, or a combination of materials. Compared to PVC, rubber is more durable and flexible, but it is also heavier. While PVC is lighter and often less expensive than rubber, it is not as durable and long-lasting as rubber.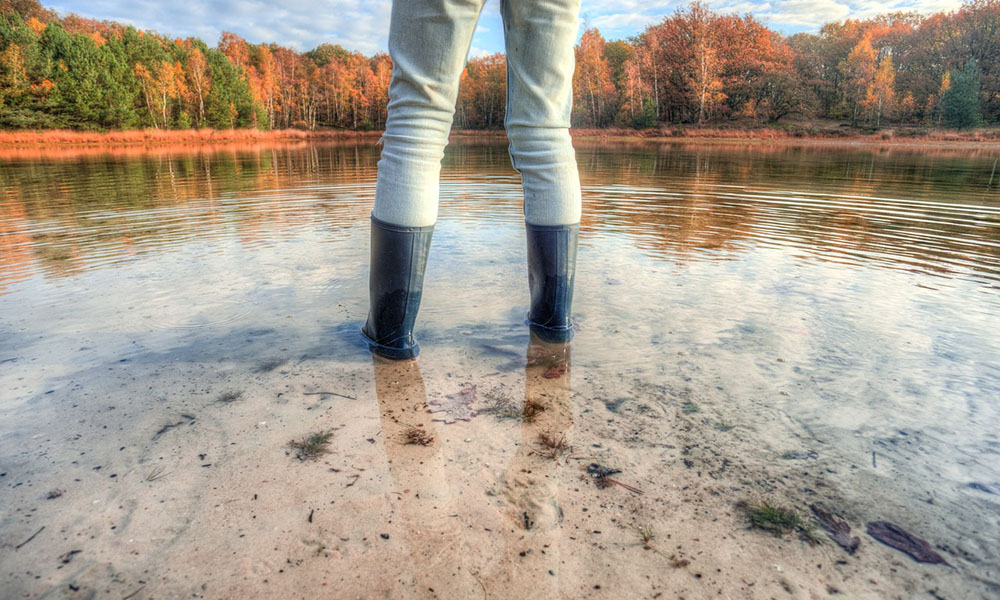 Fit
To ensure a comfortable fit with your rain boots, you should try them on before you make a purchase. If you plan on wearing them in cold weather, it is vital to make sure that they have enough room for thick socks or liners.
You should also consider the width of the boots - some rain boots come in wide sizes to accommodate those with wider feet.
Read also: The 9 Best Reviewed Wide Width Rain Boots
Height
Rain boots are available in a variety of heights, from ankle-high to knee-high. The height of your rain boots should be determined by the types of activities you intend to undertake and the level of protection you require.
Traction
When choosing rain boots, look for ones with a slip-resistant sole so that they will provide you with the best grip on wet surfaces. Boots with a higher shaft provide added protection from splashing water. An increase in traction can be achieved by the use of deep treads and patterns on the sole.
Insulation
In order to ensure comfort and warmth, it is recommended to buy rain boots that have an insulated lining or removable liners if you intend to wear them in cold temperatures.
In conclusion, rain boots provide a number of advantages, and you can choose from a wide range of styles and designs available on the market, so take your time to choose one you are comfortable wearing, and you will surely find the right one for you in the end.