There are many professions in which wearing the appropriate work boots is a mandatory requirement, such as loggers and construction workers, in order for them to meet their company's safety requirements and reduce the likelihood of serious injury in accidents.
People who spend a significant amount of time on their feet will have to make sure to have the most comfortable work boots on their feet.
When it comes to finding the perfect work boots, comfort is a big factor. With the right pair of boots, employees can stay safe on the job, while their feet stay comfortable and protected throughout the day.
Factors to Consider When Choosing Work Boots
To choose the most comfortable work boots of 2023, you need to consider several factors in order to make the right decision.
Supportive & Comfortable & Durable
Not only should the boots be supportive and comfortable, but they should also be durable so that they can withstand the demands of any work environment and the harsh conditions they are exposed to, such as heavy industry and construction.
Fit Perfectly & Provide Cushioning
In terms of fit, the most comfortable work boots should have a snug fit, not too tight and not too loose. This ensures that the boots won't move around or cause discomfort while you are wearing them. The cushioning is another important factor that should be taken into account.
Look for boots with cushioning inside the footbed so that you can walk with your feet in complete comfort. Additionally, the soles should also be of good quality and provide a great grip on different types of surfaces.
Arch Support
Furthermore, the most comfortable work boots should also have plenty of arch support in order to provide all the comfort that you need. Arch support is important because it reduces fatigue of the foot, which can be experienced after a long day at work.
Waterproof and Breathable
And finally, look for the best waterproof work boots. Especially if you are going to spend a great deal of time outdoors in mud or wet situations, waterproofing and breathability are important factors to consider.
The Most Comfortable Work Boots
There are a lot of work boots on the market, and it can be difficult to pick only one to suit your needs and budget. With so many options available on the market, if you are confused about the best options, we have collected a pair of recommended and comfortable work boots for you.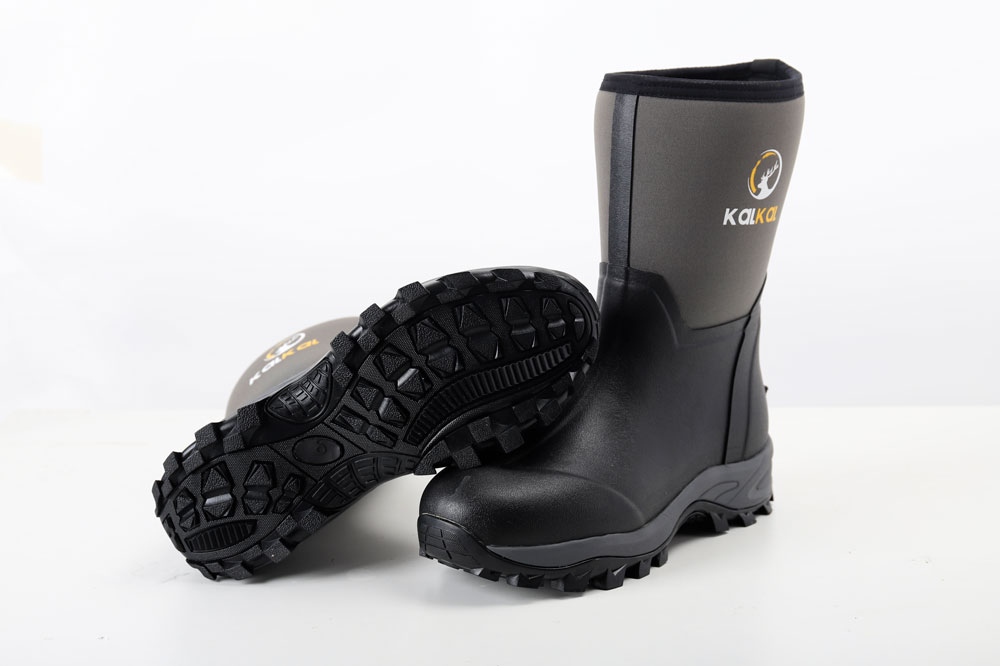 Kalkal work boots offer a wide range of incredible features that make them an ideal choice for the workplace.
Neoprene rubber material
The uppers of these boots are made of 6mm thick neoprene rubber, making it lightweight, waterproof, and friction-resistant, as well as highly durable.
The solid, lightweight construction of Kalkal waterproof work boots also makes them ideal for outdoor and work environments.
Provide Cushioning & Traction
The soles of farm work boots are composed of a two-colored lightweight midsole and a deep-grain rubber sole designed to provide support and cushioning for your feet. The deep pattern design effectively reduces vibration and shocks while walking, giving you good stability and traction on uneven terrain as well.
Breathable mesh lining
The boots feature a breathable mesh lining that helps wick away moisture and sweat to keep your feet cool and dry, even in hot and humid conditions. Throughout the day, you will feel more comfortable on your feet with Kalkal farm work boots.
Multiple application scenarios
Kalkal rubber work boots are the perfect companion for any outdoor activity, no matter how challenging. You can wear these work boots for farming, gardening, yard work, swamps, rain, fishing, skiing, walking, or doing any other outdoor activities that require you to be outside.
A trustworthy partner
Having undergone countless tests, the Kalkal rubber work boots are proven to be durable and able to withstand the tough working conditions that you may encounter.
Final Words
It is essential that you invest in a comfortable pair of work boots to ensure your health and safety on the job. With the most comfortable work boots, you will be able to protect your feet from injury and remain comfortable throughout the day.
Hence, if you are looking for one of the most comfortable work boots, you should keep the above factors in mind and check out the Kalkal boots option that we have picked for you.