Logging is a dangerous profession that involves working on rugged terrains, often in rough weather conditions. A good pair of boots can reduce the chances of serious or fatal injuries.
The best logger boots share features like composite or steel safety toes to protect feet from compression and heavy impact. They also have multi-directional outsoles that make way for secure footing, allowing the worker to move quickly and with ease in slippery conditions.
Protective, purpose-designed logger boots are a critical safety factor for working in the wilderness. But today, with hundreds of options, finding the best pair of logger boots can be confusing.
To make this job easier, this article will explain how to choose a suitable pair for yourself and a round-up of eight famous high-quality boots.
Factors to Consider When Choosing Ideal Logger Boots
To pick the best work boots for foresters, you must factor in several things. These include your work environment, sizing and fit, construction of the footwear, and your personal preference. Let's break them down one by one.
Work environment
The work environment consists of the weather conditions, terrain, and specific hazards in your workplace. Consider the weather conditions that you work in. If they are wet, cold, or hot, waterproof logger boots with insulation and breathability will be the right choice.
Similarly, if you are traversing on uneven or slippery surfaces, you should choose forest boots with robust lug soles, which offer greater traction. Finally, assess the particular hazards in your workplace. These may be electrical dangers or puncture risks. Choose boots with features like electrical hazard protection and puncture-resistant soles.
Sizing and fit
The best logger boots fit you perfectly, enhancing support, safety, and comfort. Get your feet measured, and then look at the manufacturer's sizing chart to find the perfect boot size. While trying boots, use your work socks to ensure a seamless fit.
Finally, ensuring good arch support is also important as it reduces foot fatigue. Boots with triple-ribbed, strong steel shanks provide a stable platform, which helps you work optimally on forest floors.
Such boots also protect the arches of your feet from injury. So, ensure that the boots provide sufficient support for your arches.
Aggressive outsoles
Aggressive outsoles are also a prominent feature to consider when selecting the best logging boots. Quality outsoles prevent falls, a common workplace injury in the logging sector. Falls can occur from elevations due to poor traction or from machinery.
If you work in such environments, choose logger boot outsoles with deep lugs that dig into dirt, mud, and debris in icy, wet, or snowy conditions. Aggressive outsoles make way for secure footing.
Outsoles with a multi-directional lug pattern provide significant traction irrespective of where you are walking, whether downslope or upslope.
Waterproofing
If your feet aren't dry, your workplace environment can become potentially dangerous. If loggers and ranchers get water inside their boots, they may slip while working.
Logger boots, thus, should have a robust waterproofing system that seals out water completely. This is essential because loggers need to work in different kinds of weather conditions.
Moisture wicking capability
Another crucial requirement for logging boots is their capability to wick moisture. The best boots have a comfortable lining that's breathable and keeps the feet dry and healthy.
The presence of moisture wick lining prevents the accumulation of dampness inside the boots. It, in turn, prevents foot slippage within the shoes and also minimizes the chances of unhealthy bacteria from breeding inside.
Vibram sole
The Vibram sole has incredible grip and stability. This type of sole in logger boots lets the workers navigate unpredictable terrains and slippery grounds.
Due to this kind of soles, the boots become more pliable for scaling surfaces. Vibram soles impart traction and make the boots long-lasting against wear and tear.
Are Logger Boots Worth It?
The logger style in boots implies leather boots with particular design features, such as a taller, non-western heel design. In some boots, there is a kiltie that's added to the tongue.
Earlier, people in only specific professions wore this style of boots. But today, these boots, featuring rugged construction, are worn by people in various occupations. These kinds of logging boots have many benefits.
These include the following:
Keep your feet safe: Logger boots are highly protective and built to keep your feet safe from various workplace hazards. Their safety accrues from the durable leather built and puncture-resistant soles. They act as a barrier between your feet and the different types of dangers present on the work site.
Extremely durable footwear: The best logger boots are crafted with the finest materials, and so have sturdy construction. They withstand the stresses of extremely demanding work environments. The durable construction makes these boots particularly well-suited for linemen, ranchers, heavy equipment operators, and of course, loggers.
Prevents slipping: If your daily tasks involve climbing trees, logger boots are a must-have accessory. They have high heels that prevent the wearer from slipping when purged. Not only that, but the high heel also gives a gap for the climbing spurs to fit when they wrap around the end of the boos The raised heel functions as a catch and is capable of grabbing in the events where the foot slips. It offers traction and alleviates the foot out of the damp terrain.
Highly comfortable: Logger boots may look rugged, but only the wearer knows how comfortable they are. Their comfort manifests in the form of adequate cushioning, arch support, and a custom fit. The best logger boots have features that maximize the comfort of the wearer. These include padded collars, moisture-wicking linings and highly ergonomic insoles. These features ensure that the feet of the wearer remain free of fatigue even when they need to work continuously, almost the entire day.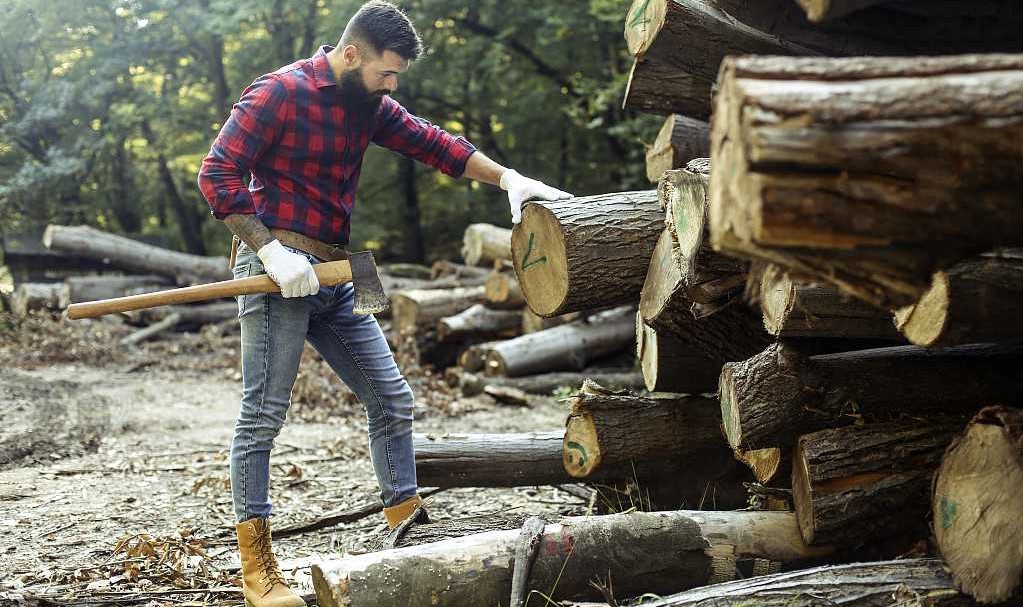 8 Best Logger Boots for Foresters 
Now that you know the various essential features and merits of logger boots, it's time to know the best ones in the market. Here are the eight top options you can invest in.
Customer rating – 4.0/5
Features:
It is made with a sturdy steel shank and steel safety toe.
Consists of a Vibram outsole with reinforced tip stitch.
It has a shock-absorbing footbed and a waterproof membrane.
Pros
Highly durable pair of work boots.
The storm-welt construction protects against harsh work conditions.
The Vibram outsole is abrasion and slip-resistant.
Keeps feet comfortable and dry.
Customer rating – 4.2/5
Features:
Consists of a triple-bar steel shank.
Wraps the foot in a layer of memory foam, that is, Pillow Cushion 1 footbed.
The boots have a soft toe.
Pros
These are the logger boots that can tolerate applications of 18,000 Volts at 6ohz for a single minute.
The rubber lug outsole is resistant to oil and slip.
The memory foam provides adequate comfort .
It has an excellent ground-gripping traction.
Cons
Sizes might be slightly small and tight than other brands.
Customer rating – 4.0/5
Features:
Constructed on a heavy-duty welt construction platform.
Consists of all-terrain fire and ice soles for excellent slip resistance.
The shoe meets ASTM safety standards.
These logger boots are waterproof.
Consists of a Vibram outsole.
Pros
The shoes can perform well on high-heat surfaces.
The logger boots, crafted from leather, are attractive and highly durable.
Keeps the moisture away from the foot.
Cons
Some boots might be pricy.
A bit heavy.
Customer rating – 4.5/5
Features:
Made of powerful full-grain leather.
The boots have non-conductive electrical-resistant soles.
Have Vibram edging for the ideal traction.
The lining of the shoe is waterproof.
Pros
Keep moisture away from the feet.
The boots can be used on steep terrain as they have a 90-degree heel.
The stitch down construction imparts an excellent stability underfoot.
The broad and deep toe box provides greater volume in the toe and forefoot.
Cons
Some may find the sole very hard and uncomfortable.
Customer rating – 4.5/5
Features:
Consists of 400-gram PrimaLoft insulation.
Made of environmental-friendly material.
Rubber lug outsole.
Cushioned EVA footbed.
Pros
The PrimaLoft insulation keeps feet warm.
The rubber lug outsole provides an incredible grip.
The cushioned EVA footbed provides support and absorbs shock.
Have highly durable nylon laces.
The collar is padded and comfortable.
Customer rating – 4.0/5
Features:
Steel toe meets the ASTM safety standards.
UltraDry construction.
Shank made of lineman steel.
Made of full-grain, waterproof leather.
Pros
Best logger boots for keeping the feet dry as they are reinforced with UltrDry waterproofing system.
The steel toe imparts protection from injuries.
The sole is made of heat-resistant material and is highly durable.
The built-in steel shank enhances stability with underfoot support.
These boots provide electrical hazard protection.
Cons
Do not have much insole padding.
Customer rating – 4.0/5
Features:
Flat reinforced leather shank.
The boots have Vibram soles.
Made of oil-tanned leather.
Pros
The best logger boots as they are durable and specifically for people who are on gaffs or spikes for a lot of time.
The boots are abrasion-resistant due to the lineman patch.
The boots provide legendary arch support.
Cons
The shoes are not EH-rated.
Customer rating – 4.0/5
Features:
The logger boots have a heavily fortified defence against water.
Padded collar.
The steel shank is solid and double-ripped tempered.
High-performance mesh lining.
Grip panels.
Pros
The padded collar imparts added comfort.
The waterproofing system prevents water from getting into the boots.
The boots are oil and slip-resistant.
Cons
Available in a single black color
FAQs About Logging Boots
What is special about logger boots?
Logger boots are made for tough outdoor work, especially in the forestry and logging industries. They are well-known for their strong ankle support, long-lasting design, and aggressive tread patterns that provide good traction in muddy conditions.
Should logger boots be steel toe?
Steel toe caps can be placed to logger boots for further protection against heavy objects and probable collisions. Steel toe logger boots are required or not depending on your individual work environment and safety needs.
What are the pros of logger boots?
Pros of logger boots include:
Excellent ankle support and stability.
Rugged construction for durability.
Good traction in rough and slippery conditions.
Potential for steel toe protection.
Suitable for various outdoor and heavy-duty work tasks.
Are logger boots good for standing all day?
Logger boots can be comfortable for standing all day, especially if they have proper cushioning and arch support. However, individual comfort may vary, so it's essential to choose logger boots that fit well and provide adequate support for your feet.
How do you break in logger boots?
Breaking in logger boots involves wearing them regularly to allow the leather to soften and mold to your feet. It can take a few weeks to several months to fully break in logger boots, depending on the boot's stiffness and your usage. To expedite the process, you can use leather conditioner and wear thicker socks initially.
Are logger boots good on concrete?
Logger boots can be suitable for concrete surfaces, but their primary strength lies in rough outdoor terrain. If you need to work primarily on concrete, you might consider work boots with features more tailored to that environment, such as slip-resistant soles and cushioned insoles.
Are logger boots good for your feet?
Logger boots can be good for your feet if they are well-fitted and offer proper support and comfort. They are designed to provide stability and protection in rugged work environments. However, individual comfort and foot health can vary, so it's crucial to choose boots that suit your specific needs and ensure they are the right size for your feet.
Tips to Keep Your Logger Boots in Perfect Condition
Even the best logger boots can be damaged due to continuous exposure to high temperatures, inadequate washing, shoe abuse, impact, and age. But there are various ways to take care of them so that they last for long.
Proper cleaning– Regularly remove dirt or other contaminants from the boot's surface. Remove the dirt with soapy water or a soft-bristled brush.
Dry your boots correctly– Avoid drying the boots in direct heat. Instead, ball up some newspaper sheets loosely and place them inside the logger boot.
Store the footwear properly – Always store the footwear in a well-ventilated and cool place. Ensure that the storage place does not receive a significant amount of direct sunlight.
Unlace the boots when putting them on and taking them off– Taking off a boot with fastened laces can make the sole come away from the upper. Likewise, putting your foot into a boot with tied laces can crush and crack the sole material.
Conclusion
The best logging boots are a blend of functionality and aesthetics. Ultimately, they allow you to get your job done safely and without discomfort.
Boot shopping can feel daunting, especially when you browse the endless varieties of boots, all claiming to provide the best support. But this article will help you narrow down various options so you can find the best boots easily.