If your daily work involves prolonged standing or walking, you might be on the hunt for the best work boots for walking all day. Work boots set the norm for the quality of our work. If our work shoes are not comfortable, our ability to produce the desired outcomes is reduced.
Work boots influence our walking style, speed, posture, and musculoskeletal balance of our whole body. The process of selecting the best work boots for walking all day needs profound care as it is going to impact not only our performance at work but also the health of our feet.
Now, let's explore the crucial features of work boots and how to select the best one to ensure all-day comfort while walking.
What Features To Consider When Selecting Work Boots
Arch Support
You need to be aware of your arch type whether you have a neutral arch, flat feet, or high arch. That's because you need to select the shoes which go by the shape of your arch.
They will allow your feet to have the constant support and distribution of force equally over the sole of your feet. Resultantly, your muscles, ligaments, and bones will remain functional and stress-free.
Material
The material of the boots should be comfortable. Most of the working boots are made up of high-quality leather. Some of the materials are soft, while others are still.
Still, you may want to wear them and walk a few while before selecting them. You need to make sure that the material of your shoes is supportive and comfortable.
Durability
You need to keep in mind the nature of your job before selecting your footwear. You will need shoes made of a durable and strong material if you have a demanding profession that calls for high-withstanding footwear.
Do not fall for the fancy appearance merely. Rather, prefer the comfort of your feet and the nature of your job. Select the option that would allow you to move around, stand, and work the whole day.
Waterproof
Work boots should be waterproof, and their material should be strong enough to protect your feet from the outer environment. Any soft or low-quality material would not guarantee the protection of your feet.
So, choose the brand that would allow your feet to remain intact regardless of the harshness or roughness of the working environment.
Flexibility:
Walking requires the feet to bend and move all day. That's why, the selection of work boots should be based on their quality of being flexible. The best work boots for all-day walking would be the ones that allow your feet to bend, flex, and move easily without facing any difficulty.
They should allow feet to breathe and provide maximum protection while moving. Thus, they should also allow muscles and ligaments to function with efficiency and avoid any injury.
Best Work Boots for Walking All Day - Reviews
To identify the top work boots for people who stand on their feet for long hours, we examined and tested a wide range of work boots for our in-depth review.
We analyzed these work boots based on a number of factors, from comfort and durability to support and style, to help you make an informed choice towards the best work boots for walking all day.
Work Boots For Men:
Thorogood 1957 Series 8" Waterproof Steel Toe Work Boots
They are mainly famous due to their waterproof characteristics and provision of maximum protection for feet while working. The boots can also protect the feet from electrical shock and have carbon in their soles which returns energy to the feet.
They have a 4.4/5 rating on Amazon. Customers have shared their positive experiences regarding the 12 hours of use per day. Moreover, some users have also shared about the reduction of musculoskeletal issues with their use. Some customers have complained about durability though.
Carhartt Men's CMW8200 8 Steel Toe Work Boot
They have durable soles, and their lacing system is also quite rigid. They are made up of high-quality leather, which provides good flexibility and protection to human feet. Their rubble soles allow them to remain durable for work.
They have a 4.4/5 rating on Amazon. Most of the customers are satisfied with their protection and manly durability. Most people have reported using it for 10 to 12 years and still prefer to use this brand for their work routine. Though, there a few people who were not happy with the overall quality.
Timberland PRO Men's 6″ Pit Boss Steel Toe Industrial Work Boot
This brand has chosen a high class of leather for designing these shoes which promises the maximum protection and comfort to the feet of users. Furthermore, the Nylon laces also add to the durability and fitting of these shoes.
They have received 4.4/5 ratings. The customers have mainly praised the provision of arch support in these shoes. They have managed to resolve the sore ankles and joints of people and provide them with enough support while working. However, some users have labeled them as heavyweight.
Keen, Milwaukee Steel Toe Work Boots
These work boots have high-quality material and waterproof features which provide maximum protection to shoes. They are insulated and make sure to keep the feet secure the whole day and provide protection against injuries and obstacles.
They have received a 4.4 /5 rating. These work boots are mainly praised because of their durability and strong material. They have been reported to remain functional and durable even in rough and harsh working environments. A few customers have reported about water leaking.
Timberland PRO Titan 8″ Alloy Safety Toe Industrial Work Boot
These work boots have triple stitching which gives them an ability to face obstacles without getting torn. Moreover, their high-quality leather and light weight make them much preferable among the site workers.
They have a 4.7 /5 rating on Amazon. Customers are very satisfied with their performance very much. They keep the feet safe from any stress. Customers have mainly praised their firm fitting and the level of comfort. Some customers have written that they are not good for large and wide feet.
Carhartt Men's 11-Inch Waterproof Safety Toe Wellington
These high-class work boots offer high-quality leather, waterproof characteristics, and foot support. They have a rubber sole which gives the maximum support to feet while walking.
They have a 4.3 /5 rating. Customers have appreciated its durability and lightweight. Many customers have shared how these shoes kept them from getting ankle sprains and injuries while working. They are mainly praised for being long enough to cover and support ankles while working. Few reviewers have criticized these boots for their uncomfortable fit.
Wolverine 8-inch Durashock High-Performance Work Boot
These work boots are made up of durable and strong material which is high-class leather. Moreover, they have direct soles which save them from splitting. And adds to their durability as well.
They have a 4.4 rating. Users have praised their long durability and lightweight. They are highly praised for being the perfect fitting and high-quality stitching. While some customers have reported slight discomfort with their use.
Irish Setter Men's Wingshooter Steel Toe 8″ Work Boot
These work boots have durable lacing and stitching which depicts the best quality of stitching. They have long durability and features of being waterproof and insulated which provides maximum support and protection to the feet.
They have received 4.6/5 ratings. People have mainly praised the long durability and strength of these shoes and how they protect the feet in difficult working situations. Furthermore, these shoes keep the heel and ankle joints safe. The reviews show that the construction workers did not like it though.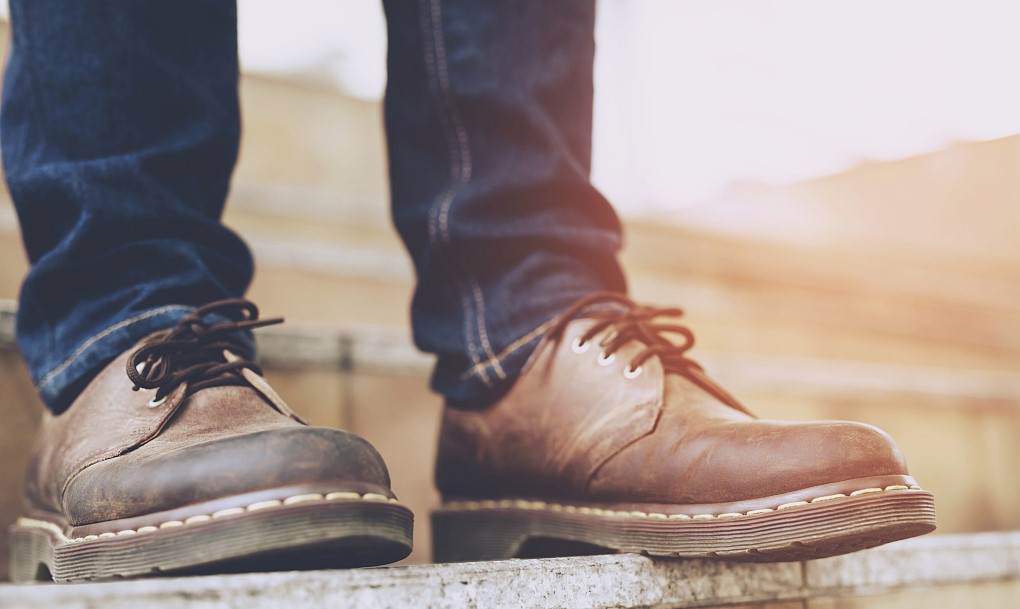 Work Boots For Women:
Skechers Workshire Peril Work Boots
They have oil-resistant outsoles and steel toe caps. They also have removable gel-infused footbeds. They are manufactured with pure leather which makes them well-designed shoes.
They have 4.2/5 ratings. These shoes are mainly praised because they are lightweight and comfortable. Customers have celebrated their waterproof material which helps them to keep their feet safe even in different working sites. However, customers have complained about their low durability.
Justin Katerina Work Boots
These works are perfectly designed with the J flexed insoles which help walk comfortably. They are designed extremely safe as they have toe caps which keep the toes protected even while working in the field.
They have 4.3/5 ratings. Customers have highly praised the aesthetic appearance of these shoes. Moreover, customers praised their comfortable material and waterproof leather that are helpful during work at construction sites. They are expensive, though.
Timberland PRO Direct Attach Work Boots
These work boots for women have padded footbeds and soles which prove highly comfortable while walking and working. Their outsoles are heat, oil, and slip-resistant which can be highly beneficial during work and activities.
They have a 4.6 rating. Users have appreciated the availability of these work boots in all sizes and fittings. Their durability and comfortable fitting have gotten positive reviews from their users. A couple of people complained about wear and tear though.
Carhartt Rugged Flex CWF5355 Work Boots
These work feet have PU foot beds which provide complete support to the soles of the feet while working. They have EVA midsoles with PU strobe pads, which are quite helpful for walking whole days due to their shock absorption characteristic.
They have a 4.4 rating. Customers are completely satisfied with the safety, comfort, and durability of these shoes. These women's work boots are perfectly designed and used by a lot of working women at working sites. A few customers have complained about them being uncomfortable, heavy, and clunky.
Cat Footwear Mae Women's Work Boots
They have slip-resistant outsoles and nylon mesh footbeds. Their steel toe caps also make them safe and the best option for working women. Pure leather has been used for the manufacturing of these shoes.
They have 4.5 ratings. Customers have appreciated the durability and level of comfort of these shoes. The high quality of shoes has been praised highly among its users. Some people raised concerns about quality control.
WOLVERINE Floor hand Work Boots
They have slip-resistant rubber lug outsoles and cushioned footbeds which are highly helpful during walking. The high quality of their manufacturing leather offers a waterproof feature which helps them to be highly beneficial during working. They have nylon shank which gives structural support.
They have a 4.4 rating. Customers have found them quite economical, comfortable, and helpful during work. Some users have complained about giving more emphasis to aesthetic appearance rather than on the quality of the material.
Cat Footwear Echo Lightweight Work Boots
These work boots have slip-resistant outsoles and cushioned footbeds. They are manufactured with waterproof nubuck leather which keeps the feet dry and protected while working. They have lace-up closures with heavy-duty hardware.
They have a 4.4 rating. A lot of customers have highly praised the level of comfort they have while working in these shoes. These shoes have proven to keep feet protected and safe while working. A few customers questioned the durability though.
How To Protect Your Feet While Walking All Day?
The best way to ensure foot protection while walking the whole day at your workplace is to be careful while selecting footwear. Select high-quality shoes of perfect size, which will provide support to your foot size, shape, and sole.
They should have enough supporting arches. Furthermore, maintain the correct posture so that feet would remain in a neutral position rather than being flexed or extended for a prolonged period.
You need to wash and clean your feet every day and check for any injury or abnormal signs (i.e., change in color, or texture).
Do not forget to trim your nails regularly to avoid any injury. Regular monitoring and care of the feet also help in keeping your feet functional and healthy.
When purchasing new boots, make an effort to break in boots by moving slowly and for an extended period of time. It will allow your feet to get used to their material and shape.
Conclusion
Work boots directly impact the work performance and musculoskeletal system. You should keep the nature of your work in mind while shopping work boots that meet your work demands.
The well-fitted, well-designed, and durable shoes not only keep the posture correct, but also enhance efficiency at work. If you are about get a new pair of work boots, check our article for reference for a better choice.
You may also like: