Oftentimes, farm work is physical labor that requires a great deal of physical effort as well as exposure to dust, dirt, and mud. By wearing boots, you can prevent these elements from harming your feet and keep them dry and comfortable.
So what kind of farm boots are recommended while working on the farm? First, let's take a look at why wearing boots on a farm is a necessity.
Why You Need to Wear Farmer Boots?
Provide Protection
Boots are designed to protect farmers' feet from sharp objects and chemicals. Farms can be dangerous places, with sharp tools and machinery, and potentially harmful chemicals.
Keeping your feet in boots can help prevent injuries such as cuts, scrapes, and other ailments. Furthermore, boots with steel toes can even provide a level of protection against heavy objects hitting the toes.
Provide Comfort and Support
Generally, farmers spend a great deal of their time working in their fields, so they need farm boots that are durable and sturdy to help them get through them.
Boots provide a layer of comfort and support to farmers who spend a lot of time on their feet. Wearing the right footwear can give you better comfort and prevent fatigue and discomfort associated with farm work, which can be physically demanding.
The right footwear can also play a significant role in preventing foot and leg pain, as they provide good arch support.
Reduce Risk of Slipping and Falling
A third reason why boots are valuable for farmers is that they can help them navigate through mud, water, and other wet conditions.
The work of farmers often involves working in muddy fields or near water sources, so wearing boots with good traction can avoid the possibility of slipping or falling.
Perhaps you are wondering which brand of farm boots combines all of the features listed above? The Kalkal boots provide good choices in footwear.
Kalkal Mid-Calf Farm Work Boots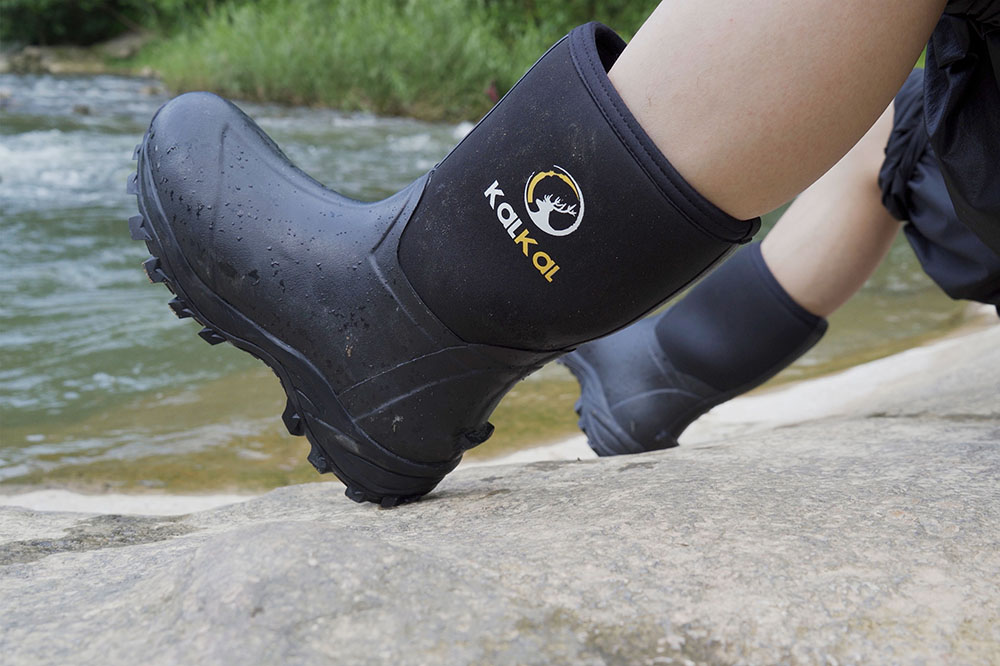 What Are the Features Of KalKal Farm Work Boots?
It is undeniable that Kalkal stands out as the best option since it offers some of the best attributes on the market, including safety, comfort, slip resistance, grip, breathability, and waterproof capabilities, making it indispensable to pick this brand.
Protection
Among the many appealing features of Kalkal work boots is the thickened rubber shell that provides reliable and safe protection for the toes during the workday.
During the work day, Kalkal farm work boots provide workers with additional protection as well as increased stability and comfort.
It is also necessary to wear Kalkal work boots so that you can protect your feet from water, mud, and other debris that you may find on farms.
Comfort
Farm work involves heavy lifting, walking on uneven terrain, and long hours of standing and walking, and a pair of comfortable Kalkal farm boots can be a significant factor in reducing fatigue and providing support for the feet throughout the day.
Moreover, Kalkal boots are also highly effective in reducing and preventing injuries such as blisters, sprains, and other common foot problems that can undermine your health.
Anti-slip sole
Kalkal work boots feature a two-colored lightweight midsole and a deep-grain rubber sole that is designed to provide superior grip.
The deep tread pattern on the sole ensures that the boots provide maximum traction on wet and slippery surfaces. Additionally, the tread can also benefit the wearer by reducing fatigue and enhancing the sense of comfort.
Waterproofing
Farming is often done in muddy and damp conditions, which can make a pair of waterproof farm boots an essential piece of equipment.
Kalkal work boots are designed with strength, durability, and waterproof materials, which enable them to be completely waterproof and durable, which keeps water out of the boot and keeps the wearer's feet from getting wet and cold.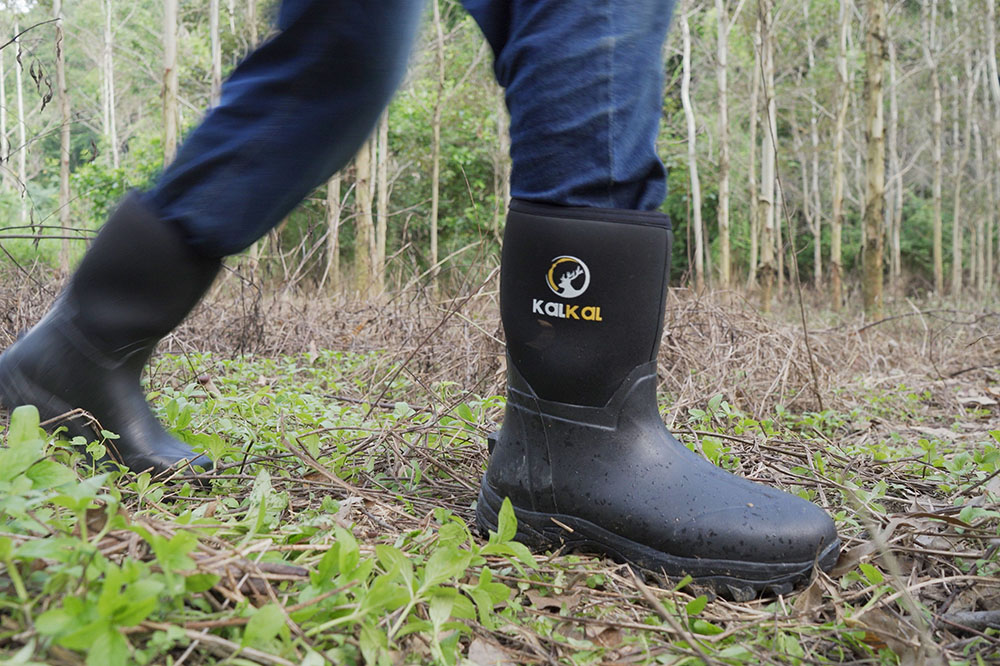 It is very hard to go wrong with Kalkal work boots. These boots are made with waterproof materials and have a specially designed sole that makes them very durable and resistant to damage from use. So, even if you work in really tough conditions, these boots can handle it.
Summing Up
Hence, it is essential for farmers to wear farm boots on the farm in order to stay safe and comfortable while working in their fields.
Choosing the right farm work boots for farm work cannot be stressed enough, and it is imperative that they fit well to maximize the efficiency and effectiveness of boots.
Related Posts:
What are the Benefits of Wearing Farm Boots
Why Wear Rain Boots – 7 Best Reasons & Guide